News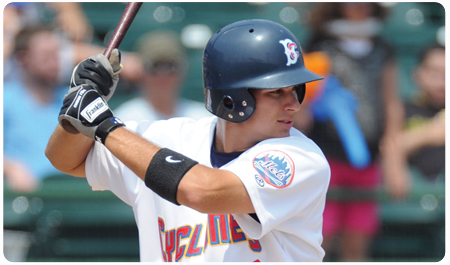 Box Score

After forcing extra innings in a dramatic ninth-inning comeback, the Brooklyn Cyclones (35-21) lost to the Oneonta Tigers (29-24) in the 10th frame.

LHP Mark Cohoon pitched a gem of a ballgame, but did not factor in the eventual Cyclones loss. Cohoon allowed just four hits and one run over eight innings, recording nine strikeouts and walking just one batter. The recently-named All-Star improved his season ERA to 2.59.

The Cyclones accrued seven walks, but managed just four hits in the game. 2B Jake Eigsti (pictured, by George Napolitano) had the Cyclones' only two hits of the game until the ninth inning. Eigsti bunted for a single in the first inning, and doubled in the third inning. In the bottom of the ninth, pinch-hitter Scott Grimes blasted a home run to tie the game at 1-1 and send the sellout crowd into a frenzy. OF Alex Gregory then worked a walk, and C Dock Doyle doubled to give the Cyclones runners on second and third with one out, but after an intentional walk loaded the bases, the Cyclones could not push home the winning run.

Cohoon was relieved in the ninth inning by LHP Brandon Sage. Sage allowed no hits, no walks and recorded one strikeout in one inning of relief. LHP Matias Carrillo pitched the top of the tenth inning and surrendered the go-ahead run on a solo home run, which earned him second loss. In one inning of relief, Carrillo recorded two strikeouts, allowed no walks, surrendered one hit and one run.

Sunday August 16th the Cyclones welcome Tommy Lasorda for his induction into the Brooklyn Baseball Gallery Hall of Fame. The first 1,500 fans 15 and over will receive Tommy Lasorda 'photo baseballs'. The Cyclones are also hosting 'Babies First Ball Game'. Parents have been emailing us baby pictures for weeks and are bringing their children to their very first baseball game. Every Sunday is 'Kids Day', and children are welcome to run the bases after the game.
Click here to get your tickets, or call 718-507-TIXX