News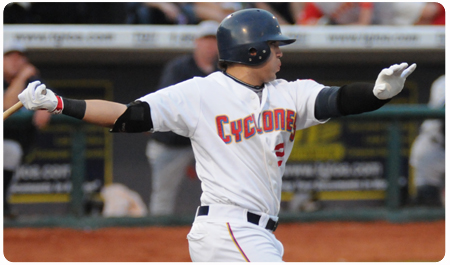 The Cyclones (33-20) were beaten by Mahoning Valley (34-19) on Wednesday night by a score of 12-1, but Brooklyn remains in first place in the McNamara Division, leading Staten island by 2.5 games.
On Wednesday, starting pitcher Darin Gorski took his third loss, surrendering eight runs on six hits in 3.2 innings of work. Only four of the runs, however, were earned, as Brooklyn's defense made two errors. After 1.1 one-hit innings by Wes Wrenn, the Scrappers taked on four more runs off of Mike Lynn (three earned), before Sam Martinez ended the Mahoning Valley attack with a scoreless eighth inning.
Offensively, Brooklyn managed just one run on a solo home run off the bat of Ralph Henriquez. Henriquez (pictured, by George Napolitano) finished the game 2-for-4. Justin Garber also notched two hits, and Jake Eigsti had one.
The Cyclones return to Brooklyn on Friday, August 14th to kick off a series with the Oneonta Tigers. On the 14th, fireworks will accompany the Friday night game.
Click here to get your tickets, or call 718-507-TIXX