News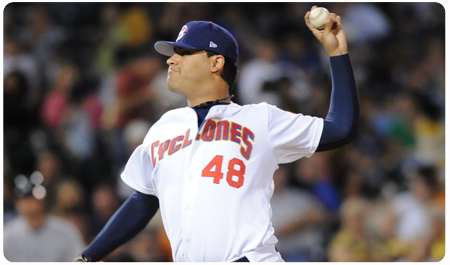 Box Score

The Brooklyn Cyclones (28-16) beat the division-rival Hudson Valley Renegades (23-21) by a score of 5-3 on Sunday night. The win extends the first-place Cyclones' lead over the third-place Renegades to five games. Brooklyn leads Staten Island by three games in the McNamara Division.

On Sunday, starting pitcher Collin McHugh tossed 5.0 innings, running into trouble in a fourth frame in which he surrendered three runs. McHugh finished the game with seven strikeouts and a no-decision, after Brooklyn eventually tied the game.

The Cyclones had taken a 1-0 lead in the top of the fourth inning, when Tyler Vaughn singled home Justin Garber with the game's first run. After falling behind in the bottom of the fourth, the Cyclones' fought back, scoring single runs in the fifth, sixth, seventh, and eighth innings to take a lead they would not relinquish.

Garber and Dock Doyle each finished the game 2-for-4 with two RBI. Luis Rivera also went 2-for-4, and scored twice. Vaughn and Alex Gregory each had one hit for Brooklyn.

Brandon Sage (2.0 IP), Matias Carrillo (1.0 IP), and Michael Powers (1.0 IP) came on in relief of McHugh, and held Hudson Valley scoreless over the final four innings of the game, earing the win, hold, and save, respectively. The win was Sage's second of the year, the hold Carrillo's fourth, and the save Powers' ninth.

On Monday, August 3rd, the Brooklyn Cyclones will host Darryl Strawberry Night, and the first 2,500 fans in attendance will receive a limited-edition "Strawbobble" – a bobblehead depicting the New York baseball legend. Strawberry will also throw out the game's ceremonial first pitch. Strawberry is currently a Club Ambassador with the Mets, and has served as a roving coach in Brooklyn at various times throughout the past two seasons.

Strawberry will also be on hand for the Cyclones' third annual Golf Outing, on Monday, August 10th. He will play in the tournament that day, and will be a keynote speaker at the outing's dinner that evening.
Click here to get your tickets, or call 718-507-TIXX