News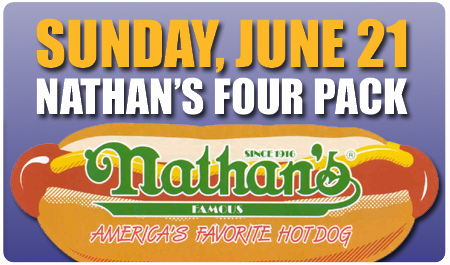 The Cyclones and Nathan's are introducing a great deal for Cyclones fans this summer. When you buy four Field Box tickets to any Sunday Cyclones game you'll get four vouchers for free hot dogs and fries from Nathan's!

The four-pack is priced at $60 -- that's just $15 a seat for the best seats in the house, and the best hot dogs in Brooklyn!

And you don't have to stop at four! The four-pack can be added to in any increment, at $15 a seat. There is, however, a minimum of four per pack.

The vouchers must be redeemed at the original Nathan's on Coney Island, just down the block from KeySpan Park.

June 21st is the Cyclones' first Sunday game, and the first chance to get a Nathan's Four-Pack Combo deal for just $15 a ticket. In addition, the first 2,500 fans in attendance will also receive a free Cyclones Bucket Cap, presented by Tee's Me.

And, since it's Father's Day, dads and their kids will be able to have a catch ON THE FIELD at KeySpan Park before the game!