News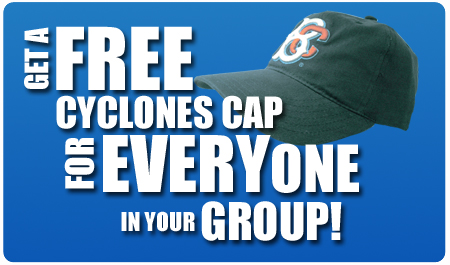 Bringing a group to see a Cyclones game is a unique way to entertain clients, reward employees, or just gather friends and family for a great night out. Schools, camps, businesses, teams, firehouses, police precincts, congregations, family reunions – groups from all walks of life fill KeySpan Park with a distinctively Brooklyn feel, and help to create the most exciting and energetic atmosphere in the Big Apple.

Groups also enjoy preferred treatment and exclusive benefits including discounted tickets, free souvenirs for everyone in the group, advance sales, and opportunities to get on the field, or get an autographed team jersey. And for the person who arranges all the details – a free Group Leader gift and two tickets to an additional pre-selected night at the ballpark!

So gather up your favorite group and get ready for a night of great baseball, wild entertainment, and non-stop fun with the Brooklyn Cyclones. It'll be a night your group will never forget!
To purchase group tickets, or to inquire about availability, please contact Joyce Huang at 718-449-8497 or joyce@brooklyncyclones.com