News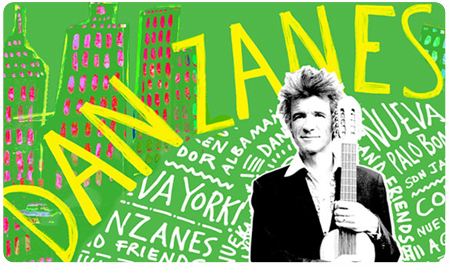 Grammy Award winner Dan Zanes will perform on Opening Day, June 17th, and tickets are still available!

Zanes is a popular musician whose children's music has made him a playground legend throughout New York City, and won him the music industy's top honor for his 2007 album, Catch That Train!

Dan's latest recording project is "¡Nueva York!" or what he is often heard calling his "pro-immigration CD." While the debate about who is eligible to live in the United States rages on, Dan has been having a rocking time with new musical friends from the Latino world, celebrating some of the vibrant culture that comes with immigration. The result: a collection of songs from Puerto Rico, Mexico, Colombia, the Dominican Republic and other parts of the Spanish-speaking Americas which was released in Spring 2008.

Dan will sing the National Anthem, lead fans in a rendition of Take Me Out To The Ballgame, and performinfg some of his most popular tunes before the game.

Get your tickets to see the Cyclones take on the Yankees on Opening Day, and hear Dan Zanes, too!

For the record, Dan Zanes was born in Exeter, New Hampshire in 1961. He was a member of the Del Fuegos from the beginning to the end of the eighties, and with them made "The Longest Day" (1984), "Boston, Mass" (1985), "Stand Up" (1987), "Smoking in the Fields" (1989), and the hit single, "Don't Run Wild." In 1994, he released a solo CD, "Cool Down Time," shortly after which he moved to Brooklyn, N.Y. with his wife and daughter, where he then released "Rocket Ship Beach" (2000), an immediate hit with families around America, as well as with the New York Times Magazine, which said, "Zanes kids music works because it is not kids music; it's just music—music that's unsanitized, unpasteurized, that's organic even." His next CD, "Family Dance" (2001) was comprised of songs that are difficult not to dance to, and feature Loudon Wainwright III and Roseanne Cash and a lot of dancing that you can't actually see but you can imagine. Next in the Festival Five family series came "Night Time!" (2002)—featuring collaborations with Aimee Mann and Lou Reed—followed by the Grammy nominated "House Party" (2003), a rambunctious twenty-song collection that includes Deborah Harry, Bob Weir, and Philip Glass, as well as the Rubí Theater Company and Rankin Don (a.k.a Father Goose). "Sea Music," a collection of maritime songs that was the first CD in the Festival Five Folk Series, and was cited in Rolling Stone's Hot Issue in the category of Hot Maritime Sounds. The next CD in the Folk Series—"Parades and Panoramas: 25 Songs Collected by Carl Sandburg for The American Songbag"—is the disk on which Dan's scruffy troupe of musicians dragged the poet's 1927 collection of songs kicking and screaming into this century, with traditional instruments, with tuba-driven electric guitars, with whatever it takes. And, while no one was looking Dan co-authored two picture book collaborations with the artist Donald Saaf Jump Up! and Hello Hello (Little, Brown and Company Books), and appeared in the Dan Zanes and Friends concert DVD, entitled "All Around the Kitchen!" (2005) recorded at the Knitting Factory, in New York City.