News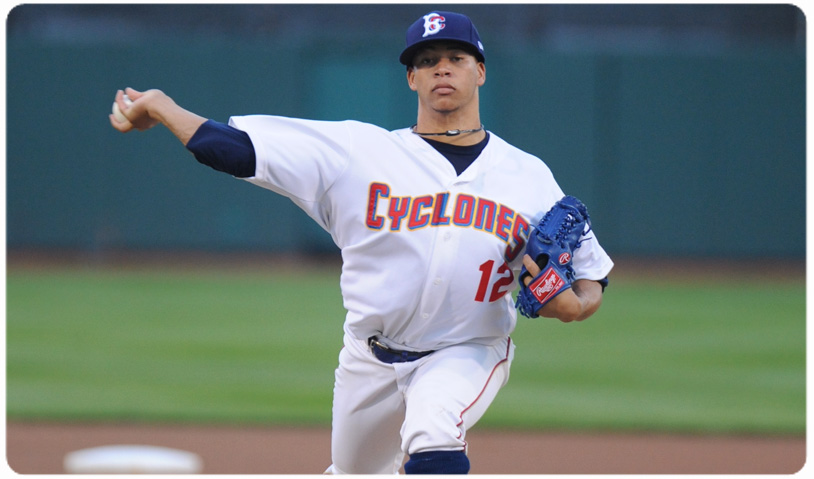 Brooklyn, NY -- September 7th --
Hansel Robles threw a nine-inning complete game on Friday to lead the Cyclones to a 4-0 shutout victory over the Hudson Valley Renegades in Game One of the playoffs. It was the third nine-inning complete game in franchise history, and the first since August 28, 2010.
Robles earned the win, allowing just four hits with no walks and 10 strikeouts. He has not allowed an earned run in 45.0 innings. After giving up a single to the second batter he faced, Robles retired the next 12 Renegade hitters in order before allowing another single.
The Cyclones took an early 1-0 lead in the first on an RBI single by Jayce Boyd. Brandon Nimmo began the frame with a single, and moved to second when Dimas Ponce was hit by a pitch. Phillip Evans then grounded into a double play, which advanced Nimmo to third.
The Cyclones extended their lead in the second, scoring three runs. Stefan Sabol led things off with a single before taking second on a throwing error by third baseman Richie Shaffer. Juan Gamboa then hit a sacrifice bunt to advance the runners, and reached first safely as Renegade pitcher Jesse Hahn committed a fielding error. After Eudy Pina struck out swinging, Jorge Rivero doubled on a line drive to left to plate Sabol. Hahn then intentionally walked Nimmo, and gave up back-to-back singles to Ponce and Evans to give the Cyclones a four-run advantage.
Hudson Valley starter Jesse Hahn suffered the loss, lasting 3.0 innings. He surrendered four runs (three earned) on seven hits with one walk and five strikeouts. Before tonight's game, Hahn had allowed just one run over his last 20 innings.
Evans and Gamboa led the Cyclones' offense with two hits each.
The Cyclones will play Game Two of the series tomorrow night at Hudson Valley. First pitch is scheduled for 7:05 PM. Luis Mateo (4-5) is expected to make the start for Brooklyn, while Jeff Ames (6-1) will toe the mound for the Renegades.