News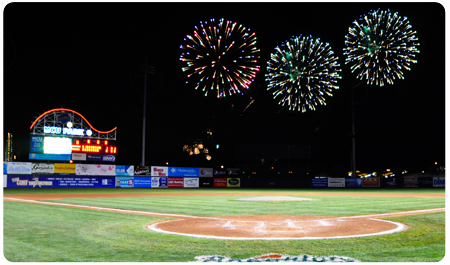 There's nothing better than a night at the ballpark. Seeing the stars of tomorrow take the field in their Cyclones home whites on a clear summer night while the breeze from the Atlantic rushes into MCU Park from just past right field, it really is as good as it gets! And then just when you think the night can't get any better…(Boom!)…The fireworks start! Flashes of color take over the sky and the ooh's and aah's from the crowd reverberate throughout the ballpark.
There is no better way to spend a summer night than with your family and friends at MCU Park taking in the non-stop fun and entertainment of Brooklyn Cyclones baseball followed by a breathtaking fireworks display from just beyond the world-famous Coney Island boardwalk.

This year fans will have a whopping FOURTEEN opportunities to enjoy the action on the field and in the skies above MCU Park.
Saturday, June 18th – OPENING DAY - vs. Staten Island
Saturday, June 25th – vs. Hudson Valley
Wednesday, June 29th – END OF SCHOOL SPECTACULAR – vs. Hudson Valley

Sunday, July 3rd – HOLIDAY EXTRAVAGANZA – vs. Staten Island
Friday, July 8th – vs. Vermont
Friday, July 15th - vs. Auburn
Saturday, July 16th – Lowell
Friday, July 22nd – FDNY APPRECIATION NIGHT – vs. Aberdeen
Friday, July 29th – EMS APPRECIATION NIGHT – vs. Connecticut
Saturday, August 6th – vs. Staten Island
Friday, August 19th – GIRL SCOUT NIGHT – vs. Jamestown
Saturday, August 20th – DSNY APPRECIATION NIGHT – vs. Tri-City
Friday, August 26th – LATINO HERITAGE NIGHT – vs. Hudson Valley
Friday, September 2nd – vs. Staten Island