News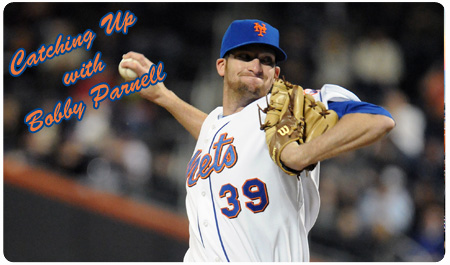 In 2005, Bobby Parnell was selected in the ninth round of the MLB Draft out of Charleston Southern University. After struggling during his final year with the Buccaneers, pitching to an 8.86 ERA, the flame-throwing right hander quickly showed that he was ready for professional baseball. With the Cyclones he went 2-3 with a New York-Penn League leading 1.73 ERA, instantly establishing himself as one of the top arms in the Mets minor league system. Three seasons later, the Salisbury, NC native had worked his way from Coney Island to Queens, making his major league debut on September 15, 2008. Recently Parnell sat down with BrooklynCyclones.com to talk about his trip to "The Show."
BrooklynCyclones.com: You are from a pretty small town in North Carolina, when you got drafted by the Mets and assigned to the Cyclones, had you ever been to New York before?
Bobby Parnell: I had never even been close to New York when I got drafted. Most of the travel I did was with baseball and we never really went up north. So when I got drafted and sent to the Cyclones it was a bit of a culture shock. For the first month or so all I did was take the van from the dorms to the ballpark and back. I was so afraid of getting lost or getting on the subway in the wrong direction that in the beginning, I didn't really take advantage of all New York had to offer. But eventually I figured it all out and that summer in New York helped me so much down the road. When I got called up to the Mets during my rookie year I was a little less overwhelmed because I had already gotten a taste of what playing in front of New York crowds, and living in the city when I was with the Cyclones.
BC: What do you remember most about your time on Coney Island?
BP: Well the first thing that comes to mind is when I got to start the All-Star Game. I remember the atmosphere that day was like nothing I had ever been a part of before. There were like 10,000 people there, or at least it seemed that way. I remember meeting Juan Marichal the night before the game and how cool that was. It was an honor to be named an all-star, it was an honor to be able to start the all-star game, and it was an honor to be able to perform in front of those Brooklyn fans.
BC: All through the minor leagues and for most of your college career, you were a starting pitcher. Now with the Mets, you seem to have found your niche in the bullpen. How has that transition been for you?
BP: Honestly, I would be the ball boy if it meant I was able to put on a major league uniform every day. But at first it was a little different for me. I was lucky to have experienced guys in the bullpen that I could kind of watch and learn from. The biggest difference was the preparation. I had a certain routine I would follow on game day when I was a starting pitcher, but when I started coming in from the pen I needed to get a new routine.
BC: Well it seems like you haven't had much trouble making the adjustment. Since you've gone into the bullpen you've been one of the few guys in the major league to reach 100-mph on the radar gun. Last year, you threw a pitch at 102 MPH in Houston which was the hardest pitch thrown in all of baseball at that point.
BP: When you are in the bullpen you don't have to worry about leaving something in the tank and can kind of leave it all out there. Honestly, I don't really think about it that much. The first time I got to triple digits was in Boston I think. After the game I had all these reporters asking me about it and I didn't even realize I had done it.
BC: Last week you went to Randall's Island and trained with the FDNY. What was that experience like for you?
BP: It was pretty intense. I would probably be a fire fighter right now if I wasn't playing ball. My dad (who is a fire chief in Parnell's home town), was able to come with me so it was pretty awesome to be able to see what he goes through. After we were done he went back to one of the fire houses with some of the guys and had lunch with them, so he felt like a rock star. He was in his element that's for sure.
BC: Thanks for taking the time to catch up with us. Best of luck in 2011 and everyone in Brooklyn will be cheering for you.
BP: Thank you. I've always felt that you need to remember where you came from, and Brooklyn is where it all started for me, so I'm grateful for everything the fans and everyone at the Cyclones did for me.