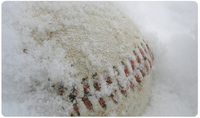 Although the temperatures on Coney Island make you think of snow balls instead of baseballs, there are still several former Cyclones taking the field as part of winter leagues. Here's a look at how some of them are performing.

Marco Camarena (2011) – The righthander, who pitched to a 1.39 ERA over his last six starts with the Cyclones, continued his stellar pitching with Culiacan of the Mexican Winter League. The 21-year-old hurler is 1-0 with a 1.35 ERA in five games with his hometown team.

Dylan Owen (2007) - The 2007 Sterling Award winner for the Cyclones is currently 2-3 with a 1.73 ERA in nine games, seven starts, for Caracas in the Venezuelan Winter League. In 41.2 innings, he has struck out 39 and walked only 10. The righthander was 6-7 with a 4.26 ERA for Buffalo (AAA) during the 2011 campaign.

Wilmer Flores (2008) – The shortstop, who hold the distinction of being the youngest player in the history of the Cyclones, is currently hitting .271 (26-96) for Margarita of the Venezuelan Winter League.

Carlos Vazquez (2011) - Although the southpaw was one of the most consistent starters on this years Cyclones staff, he has pitched out of the bullpen all winter for Mazatlan in the Mexican Winter League. He does not has a decision in 12 outings, spanning 17.0 innings, but has struck out 19 while limiting the opposition to a .194 opponents average.