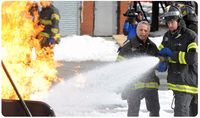 On Thursday, four Mets pitchers including former Cyclones Bobby Parnell and Dillon Gee, traded in the orange and blue for the colors of the FDNY. Mike Pelfrey, R.A. Dickey, as well as Parnell and Gee, went through firefighter training at the FDNY facility on Randall's Island.
Exercises included making a forcible entry into a simulated burning room, repelling from a five-story building, extinguishing car fires and climbing aerial ladders.
For Parnell and Gee, the visit was particularly close to home. Kevin Gee and Bob Parnell, both the fathers of Mets hurlers, are also both firefighters in their hometowns. Kevin has been on the job for 28 years in For Worth, Texas and Parnell's dad is the chief of the fire department in Salisbury, North Carolina. And today Bob was on hand to witness his son follow in his footsteps.
"Every time we're in New York, he talks about the training facilities the FDNY has," said Bobby Parnell, whose 102 MPH fast ball was one of the fastest thrown in the major leagues last year. "I was a volunteer firefighter going through high school and stuff. If I wasn't playing baseball, that's probably where I'd be. It means a lot. It really does. I grew up in the first department with him. I have a lot of friends there. Even now, my brother just signed up. I still spend a lot of time there now. I don't run out on calls or anything like that, but I just like the camaraderie at the firehouse.
Dillon Gee has a similar version of Parnell's story.
"Before I got drafted, I was pretty close to completing the whole process of being a fire man. I had tested, gotten a physical and done all of that stuff. When I was near the end of my junior year and not sure if my future was in baseball, going into the fire department was always my plan."
But the day wasn't all fun and games for the Mets hurlers. At the training facility there are reminders to how dangerous the job can be.
"The thing that will stick with me the most were the pull up bars made from the steel at the World Trade Center," said Gee. "They told us that almost 350 firefighters died in the attacks on September 11th. It really kind of put everything in perspective for me."