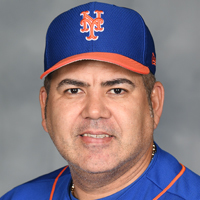 EDGARDO ALFONZO
Manager
• Enters his third season as the team's manager after serving as the bench coach for the 2016 Brooklyn Cyclones...Had a similar role with the Cyclones in each of the previous two seasons. <br>
• Has served as a Club Ambassador with the New York Mets since 2013. <br>
• Ranks fifth in Mets history in hits (1,136) and runs (614), sixth in doubles (212), seventh in RBI (538) and ninth in home runs (120). <br>
• Selected an All-Star in 2000, hitting .324 with 25 home runs, 40 doubles, and 94 RBI while helping the Mets reach the World Series for the first time since 1986.<br>
• On August 30, 1999 went 6-for-6 with three home runs, five RBI and six runs...He set team records in a game for hits ,runs, total bases (16) and tied for the single-game home run mark.<br>
• Won the Silver Slugger Award in 1999. <br>
• Signed by the Mets as an undrafted free agent in 1991.<br>
• Also played with the San Francisco Giants, Los Angeles Angels, Toronto Blue Jays, Bridgeport Blue Fish, Long Island Ducks, Yomiuri Giants, Quintana Roo in the Mexican League and Newark Bears.