Articles from May 2016

Star Wars Night will be held on Saturday, July 23rd and is sure to be one of the most popular games of the summer. Now, for a limited time, you can get a ticket for the game, glow in the dark t-shirt and light saber for just $25 as part of our Star Wars Night Package.

On Sunday, May 22nd the 44th Annual NYPD vs. FDNY Football Game will return to the five boroughs when New York's Finest battle New York's Bravest on the gridiron at MCU Park. Tickets are just $20, with proceeds to benefit local charities, and include a ticket to a 2016 Cyclones game.
It's never too early to start planning for those summer nights at the Ballpark on the Boardwalk. Group tickets for the 2016 season are on sale now, and this year groups of 15 or more are eligible for additional perks, and groups of 20 or more can receive discounted tickets.

The Luxury Suites and Brooklyn Rooftop offer million dollar views at rent controlled prices and are the perfect setting for corporate functions, or a celebration among friends.

MCU Park will have a new look for the 2016 season thanks to the all-new "Backyard" located just beyond the right field wall. This area will be the most unique vantage point in the ballpark and provides the perfect setting for a group outing.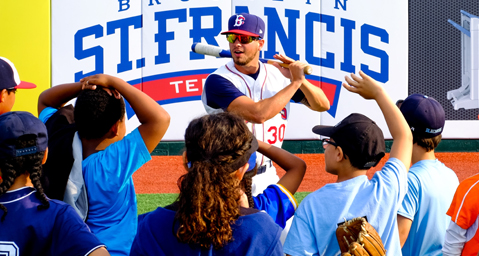 Registration is now open for the 3rd Annual MCU Youth Baseball / Softball Clinics. The clinics, which are open to children 7 - 14 years of age, are free of charge and will be held on Monday, June 20. Tuesday, July 26, and Wednesday, August 24 prior to that evening's Cyclones game.