CHRISTINA MOORE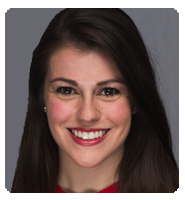 Director, Community Relations & Entertainment
[email protected]
PH: 718-382-2683
Christina Moore is a proud Brooklyn native & graduate of Wagner College with a degree in Arts Administration. She is no stranger to the Cyclones, having been involved in the organization for 7 years. Prior to her role as Community Relations Manager & Entertainment Coordinator, she was a member of the Brooklyn Cyclones Beach Bums dance team from 2010-2012, became Director & Coach of Pee Wee's Dance Crew in 2013 and assumed the position of Entertainment Coordinator during the 2016 season.
Aside from her work in minor league ball, Christina worked for MTV Networks for 4 years and climbed the ladder of production, working as an Executive Assistant, Project Coordinator and Production Coordinator.
From 2010-2014 she was involved in the Miss America Organization, holding various local titles, including Miss Brooklyn 2011. Retired from competing, she now sits on the Board of Directors for the Miss Greater NYC Organization. Christina also has close ties to Staten Island and is the resident choreographer and Board Member for the Minty Organization for the Performing Arts. On her weekends she travels over the bridge and works as a dance instructor and choreographer at Rhythm Central Dance Company.
Christina proudly spent two seasons on the sidelines of MetLife Stadium as a NY Jets Flight Crew Cheerleader (2015-2016 & 2016-2017 squads). Community and service are two things she values deeply and has worked with various organizations including, the American Cancer Society, The Sarcoma Foundation, The Sarcoma Alliance & Frankie's Mission.
Fun Fact #1
-- She will be gaining a new last name in 2017
Fun Fact #2
-- She was a contestant on ABC's Pyramid
Fun Fact #3
-- Selfies make her uncomfortable
Who was your favorite cartoon character when you were a kid?
Had a few favorites as a kid, but Rugrats takes the cake!
Who is your favorite baseball player of all time?
I was raised to be a devoted Mets fan, so have to go with the one and only Mike Piazza. I remember going to games with my family in the early 2000s decked out in my Mets gear cheering at the top of my lungs for the catcher.
What is your favorite month of the year and why?
October! I love the fall, the brisk air, Halloween and yes, all of the fun fall activities. October is also my anniversary month and my wedding month, so it's a sentimental time.
Favorite type of candy?
If you bring me a Reeses peanut butter cup we can be best friends.
What was the best piece of advice you have ever received?
To never rest on your laurels. You work to get the part you want in life, then you need to work to keep it. Work hard, show up and when the universe is trying to tell you something, just shut up and listen.
If you could share a pizza with any three people –living or deceased, who would you choose?
My Granny, Frank Sinatra & Celine Dion.
What sporting event do you wish that you could have witness first hand?
The 2000 Subway Series, man what an awesome time to be a New Yorker!
If you had to go into the witness protection program what would you want to change your name to?
Regina Falange.
If you were an inmate on death row, what would your request for a last meal be?
Wait, wait, wait . . why am I on death row? Grilled cheese sandwich as a snack with a large Coke, followed by mozzarella en carrozza, penne alla vodka & chicken rollatini and a glass (or bottle) of wine. To satisfy the sweet tooth I would end with a warm brownie with salted caramel ice cream, whip cream and hot fudge . . . don't judge me.
If you were stuck in the movie Groundhog day, what day would you relive over and over again?
February 28, 2016, the day I got engaged. I went next door (my fiancé and I grew up living next to one another, yes, he is the Boy Next Door) to get balsamic vinegar and when I came back outside he was standing on the porch. It took me about 30 seconds to process what was actually happening. I was on a happy little cloud the entire day!
Pick the one that you think is more likely to be real –Ghosts or Bigfoot?
Ghosts . . . I don't mind them as long as they are friendly.
What apps do you use most frequently?
Waze, which is a life saver! Instagram and my calendar. I know the calendar technically isn't an app, but it keeps me organized and gives me fun reminders for things.
Beside the Cyclones what are your favorite sports teams?
The New York Mets, The New York Jets, the New York Rangers, New York Knicks . . . can you tell I'm from NY?
Favorite Ice Cream Flavor?
When I'm playing it safe, vanilla, when I want to be adventurous, salted caramel.
What was your favorite toy when you were a kid?
My stuffed animals & Barbies. I used to put on dance performances in my house when I was little and they always made for the best audience.
Who was your favorite teacher?
I had a few growing up that impacted me tremendously . . . Mrs. Carver, Ms. Laviano, Ms. Ferrier, Ms. Marino, Ms. Cavallaro-Ross & Ms. Sara Steinweiss, if you are reading this, thank you all for believing in me!
Do you believe we landed on the moon? Or was it a sound stage in LA?
LA has some pretty impressive special effects, but the moon landing was not one of them.
What movie always makes you cry?
Titanic. It's no secret Jack dies, but it gets me every time.
If you won the lottery, would you still work?
I would pay off my loans, buy a house, buy my parent's a vacation home, dance, tour around the world, lay on a beach for a month, then come back and start a not for profit arts organization for kids. I would still want/need to work, but I would utilize my passion for dance to better impact the community.
Have you ever met anyone famous? Were you star struck?
Have met a few famous people and am usually very good about keeping my composure, they are regular people after all. BUT, if you introduced me to the entire cast of FRIENDS I might just fall off my chair and turn into a blubbering fool. This theory has yet to be proven.