BILLY HARNER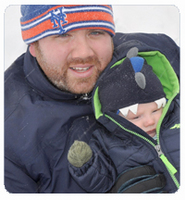 Director of Communications
[email protected]
PH: 718 - 382 - 2610
Billy worked as an intern with the Brooklyn Cyclones from 2001-2005 before taking the position of Media Relations Manager with the State College Spikes in University Park, PA for their inaugural season in 2006. Following the 2007 season, the Bay Ridge native returned to his Big Apple roots by joining the New York Mets as a Media Relations Coordinator. After three seasons in Flushing, the 37-year-old returned to the County of Kings as the Director of Communications in January 2011.
Born and raised in Brooklyn, Billy graduated from Xavier High School in Manhattan where he played basketball and baseball before taking his talents to Philadelphia and St. Joseph's University. While at the REAL SJU, the Hawks were ranked # 1 in the nation before losing in the Elite Eight to Oklahoma State University thanks to a buzzer beater from John Lucas, III. That one play has caused Billy to develop an unnatural hatred for the state of Oklahoma, Cowboys and the number three.
Billy currently lives in Wantagh, Long Island with his wife Kathryn and their three sons: Billy, Johnny and Ryan. He spends his free time sitting in traffic on the Belt Parkway and Southern State Parkway and enjoys going to Orange Theory Fitness.
Who was your favorite cartoon character when you were a kid?
I was obsessed with He-Man and ThunderCats when I was a little kid. But as I matured, so did my taste in cartoons, so if I'm being completely honest Scooby Doo is probably my favorite. If I'm flipping through the channels and happen to stumble across an episode, I'll stop and watch it for a bit.


Who is your favorite baseball player of all time?
As a life-long Mets fan, my favorite players of all time would have to be Mike Piazza, Keith Hernandez and David Wright. HOWEVER, when I was in eighth grade I did a history fair project about Roberto Clemente, and I enjoyed researching, writing and learning about him so much, I decided that when I grew up I wanted to work in sports. So now, here I am. I've worked in baseball since I was 18 years old, so because he got this whole thing started for me, I have a special place in my heart for Roberto Clemente.


What is your favorite month of the year and why?
I love April. The weather starts to warm up, the NCAA Final Four takes place, baseball season is in full swing, the NFL schedule comes out, it's my birthday month, it's my wife's birthday…lots of good things.


Favorite type of candy?
Kit Kat, Pretzel M&M's, and frozen Snickers.


What is the best piece of advice you have ever received?
When I was trying to decide what I was going to be when I grew up (you know, when I was like 21) my father told me to choose a career in a field that I was passionate about and not worry about the financial aspect of life. He told me that if you choose a job that you are excited to go to every day, inevitably you do good work and the success follows. I listened, chose to get into sports, and I feel like I haven't worked a day in my life.


If you could share a pizza with any three people – living or deceased – who would you choose?
My father, Mike Krzyzewski and Jerry Seinfeld.


What sporting event do you wish that you could have witnessed first hand?
I would have loved to have been at "The Miracle on Ice" in Lake Placid. I don't consider myself to be a HUGE hockey fan, but that game transcended sports. It was a cultural event, not a sporting event. To be surrounded by that many people, all cheering for a country, not for just a team. I get goose bumps just thinking about it.


If you had to go into the Witness Protection Program, what would you want to change your name to?
Dr. Martin Van Nostrand. (Seinfeld reference anyone?)


If you were an inmate on death row, what would your request for a last meal be?
I would do a food tour of my favorite places to eat in Brooklyn. I'd get cheese fries from Roll N'Roaster, an M&M's Favorite Hero from Mejlander & Mulgannon Deli in Bay Ridge, and a slice of pizza from Pizza Wagon. Don't judge me. If I'm gonna die, I don't need to worry about calories.


If you were stuck in the movie "Groundhog Day," what day would you like to relive over and over again?
I was lucky enough to go to the Super Bowl in 2012 when the Giants beat the Patriots…for the second time. I was able to watch the Giants win, had a couple of adult beverages, hung out with some friends. What's not to love? Oh, and in case my wife reads this, forget everything I just said, I would relive my wedding day.


Pick the one that you think is more likely to be real – Ghosts or Bigfoot?
I'll take choice C…all of the above. I firmly believe in ghosts, big foot, loch ness monster...all of it. If you've got a blurry photo of something, and sketchy evidence, I'm buying what you're selling.


If you could be any fictional character, whom would you choose?
Phil Dunphy from "Modern Family." He's a good dad, successful career, funny guy, beautiful wife, great kids...sounds like a nice life to me.


What app on your phone do you use most frequently?
The Waze GPS app. I know every nook, cranny and short cut in Brooklyn, Queens and Nassau County so that I can find a way to get around traffic.


Besides the Cyclones what are your favorite sports teams?
The New York Mets, the New York Giants, the New York Rangers, Notre Dame Football, Duke Blue Devils and St. Joseph's University Basketball.


What is your favorite place in Brooklyn?
Shore Road in Bay Ridge. I grew up in that neighborhood so I used to go to the park and play basketball with my dad there, my little league fields were on Shore Road, I learned to ride a bike on Shore Road, and when I needed a place to go and just relax, I'd find a park bench and just take in the scenery.


What is your favorite ice-cream flavor?
Cookies and Cream from Haagen Dazs.


What was your favorite toy when you were a kid?
Starting Lineup figures. I still have most of them. I use them as decorations in my office and my Man Cave at my house.


Who was your favorite teacher?
Well, my mom, sister and wife are all teachers…so I need to cover my tracks by saying them. But my favorite teacher as a student was Mr. Specht. He was my teacher in junior high school. He helped me grow as a student, but also as a person. He was also instrumental in helping me see that I could use my passion for sports for more than a hobby, it could be a career.


Do you believe that we landed on the moon? Or was it a sound stage in LA?
I love a good conspiracy theory, but I do think we landed on the moon. Somebody would have let something slip by this point if it wasn't true.


What movie always makes you cry?
Like every red-blooded, American male, I cry during "Rudy" and "Field of Dreams." But when Muphasa dies in "The Lion King," the water works take over.


If you won the lottery would you still work?
I would probably open a deli (I can't find a good place to get a sandwich near my house), or a steakhouse (I love to cook, especially grilling). I wouldn't be there every day, but I would need some type of career to keep my brain from turning to mush.


Have you ever met anybody famous? Were you star struck?
The most famous person that I ever met was Paul McCartney and star struck doesn't even begin to describe what I felt. I stood there, I shook his hand, and I was sort of in awe. He is one of the most famous people on the planet - I mean, the guy was a "Beatle" after all. I felt like Ralphie in "A Christmas Story" when he sees Santa and can't get the words "Red Rider BB Gun" out of his mouth. I had so many things I wanted to say, so many questions I wanted to ask, and I just froze.