RICKY VIOLA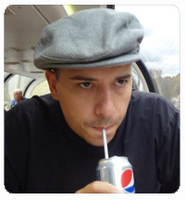 Account Executive
[email protected]
Ricky joined the Cyclones on a full-time basis as an Account Executive in 2005, after spending parts of the first four seasons as part of the Video Crew.
Ricky is a lifelong Brooklynite and has attended Kingsborough Community College.


Were you named after anyone?
My father.


Do you like your handwriting?
When I write, it looks like I sneezed while writing, it's horrible.


Would you ever bungee jump?
I don't want to pretend that I am careening towards death.


What is your favorite cereal?
King Vitiman


Do you untie your shoes before you take them off?
Depends on the shoe.


If Hollywood decided to make a movie about your life, what would the title be?
Party in My Head


In this movie what actor/actress would play the role of you?
Vince Vaughn


What is your favorite smell?
Don't have one, but my LEAST favorite smell is Gary Perone's Cologne.


Name a place you would like to visit and why?
The inside of a whale, just to see what the fuss is about.


Other than MCU Park, what is your favorite baseball stadium?
AT&T Park in San Francisco.


If you won the lottery, what is the first thing you would buy?
I would pay someone to stare out the window for me all day.


If you were a baseball player, what would you want your walkup song to be?
Ode to Joy by Beethoven


What is the best concert that you have ever been to?
Billy Joel - Last Play at Shea.


What is your favorite restaurant?
Paulie Gee's in Greenpoint.


If you wrote an autobiography about your life, what would the title be?
Gumdrops & Eucalyptus - The Story of a Boy and His Skunk.