MIREYA RAMIREZ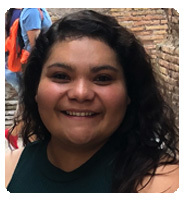 Account Executive
[email protected]
PH: 718-382-2601
Mireya or Rey, as her friends call her, was born and raised in Kansas City, is one of four siblings, where sports was and still is part of her life. Mireya played club volleyball since she was in 5th grade and graduated high school at St. Teresa's Academy, an all-girls school.
She came to NY by way of a Division 1 volleyball scholarship at St. Francis College, Brooklyn. After receiving her Bachelors of Science in Business Management with a minor in Sports Management, she gained an internship opportunity with the Brooklyn Cyclones. Prior to the Cyclones Mireya gained much experience in ticket sales while a student at SFC-BKLYN.
What is your favorite candy?
My favorite candy is Twix
Besides the Cyclones what are your favorite sports teams?
Kansas City Chiefs! Can't wait to see how well they do in the Playoffs! My family and I are big University of Kansas fans! #rockchalk
What is your favorite ice-cream flavor?
My favorite ice-cream flavor would have to be Chocolate Chip!
What was your favorite family vacation?
My favorite family vacation was the time my family spent the week in an all-inclusive hotel in Islas Mujeres, Mexico because I was able to experience snorkeling and parasailing for the first time!
What is your favorite quote?
"First do what is necessary, then do what is possible, and before long you will find yourself doing the impossible."- St. Francis of Assisi
What is your favorite movie?
My favorite movie is She's the Man with Amanda Bynes
What is your favorite game or sport watch and play?
Like mentioned in my bio, I've played volleyball for the majority of my life, so that's my favorite game to play and also watch, especially if I am watching a former teammate or opponent.
If you can eat one meal for the rest of your life, what would it be?
I would have to say flautas made by my mom, with her amazing arroz and spicy salsa.
Have you ever had a nickname? What is it?
The last time I counted there were 10, these are just a few of them; Lupe, Yeya, Malala, Rey. I'm sure there will be plenty more to come!
List two pet peeves.
People chewing with their mouth open.
When a light is left on in a room that isn't being used.
How many pairs of shoes do you own?
Probably 15+ but you can never have enough shoes!