Season Tickets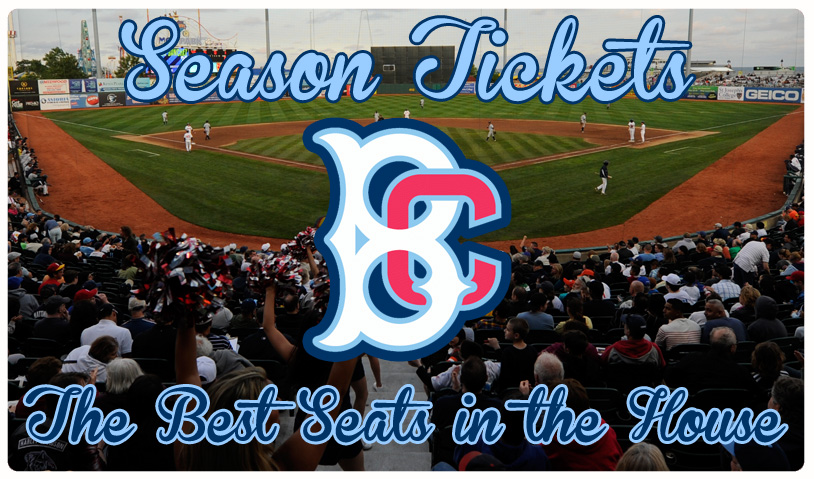 While next season may seem like it's still a long time from now, Opening Day will be here before you know it. The 2014 season will start earlier than ever before, with our Home Opener set for Saturday, June 14th against the Staten Island Yankees. While that night is sure to be one of the highlights of the season, we are happy to announce that the biggest celebration of the 2014 campaign will come on Tuesday, August 19th when MCU Park hosts the 10th Annual New York-Penn League All-Star Game. This marks the first time since 2005 that the ASG will be in Brooklyn and will be the culmination of a year-long celebration of the 75th Anniversary of the New York-Penn League.
As a Season Ticket Holder, you will be the first ones to lock up your seats to this crown-jewel event. But that's just one of the perks of renewing your season plan. In addition to the same great seat for all 38 home games (plus the All-Star Game), discounted pricing, and over $500 in savings and exclusive benefits, we are proud to offer some new experiences and perks for 2014. Here's a look at what's in store:
NEW CYCLONES SEASON TICKET ID CARDS: You are our most valued patrons. You make the commitment to come to MCU Park every night, and we want a way to help you stand out from the crowd. Season Ticket Holder ID Cards will entitle you to special red carpet treatment and special offers all season long.
NEW CYCLONES FAST PASS: Nobody likes to wait, and now you won't have to. We will have special "Season Ticket Holder Only" lines for Everyone Runs the Bases, Kids Run the Bases, and Autographs on the Field.
NEW IRONFAN AWARDS: Nobody is more dedicated to Cyclones baseball than our Season Ticket Holders. With the new IronFan Awards, we will recognize those who come to at least 90 percent of our games and give them a chance to enjoy a game from the comfort and luxury of one our exclusive suites during the 2015 season.
NEW SEASON TICKET HOLDER JERSEY: You asked for it, and we heard you. Season Ticket Holders will once again receive a jersey exclusive to this loyal bunch. This year's jersey will highlight the 2014 All-Star Game at MCU Park. (One jersey per seat on your account)
NEW TEAM MEETINGS: Prior to select games during the 2014 season, you will be invited to attend special team meetings with Cyclones players, coaches and front office members. Ask questions, voice concerns, or just get to know the members of your favorite team a little bit better.
NEW SCOREBOARD MESSAGE: Celebrate a special birthday, wish a happy anniversary to your spouse, or just pass along a welcome to a special guest. Every Season Ticket Holder will have the chance to share their special message on our video board free of charge.
NEW ON FIELD ACCESS FOR ALL-STAR GAME: Experience the All-Star Game like nobody else, with special on-field access prior to the 2014 ASG.
SEASON TICKET HOLDER BBQ & SEASON TICKET HOLDER BP: This year we have split the event in two. Head to the ballpark early one Sunday for a chance to mingle with the Cyclones during a BBQ, and then come back on a non-game day to take some cuts during Season Ticket Holder Batting Practice.
EVEN MORE FREE PARKING: We've adjusted our parking policy from years past to give you the ability to park for free at even more games by adding Sunday's to the available dates. For every ticket in your season plan, you will receive eight undated vouchers that can be redeemed for free parking in the lot adjacent to MCU Park. These vouchers are for any game Sunday - Friday (excluding July 4th) based on availability.
NEVER WASTE A SEAT WITH NO BLACKOUT DATES: We know that sometimes life gets in the way of our plans. Sometimes you have car trouble, or your kids get sick, or maybe you get stuck at work later than you would have wanted. But that doesn't mean your tickets have to go to waste. After the games has been played, you can redeem your unused tickets for ANY GAME during the 2014 Brooklyn Cyclones regular season.
LOADED TICKETS: For every ticket in your season ticket plan, you will receive 10 undated vouchers with a $6 credit towards food, beverage or merchandise at MCU Park. Use the credit for ANYTHING in the ballpark. The choices are endless and completely up to you.
VALUE PRICING: You get the best seats in the ballpark for less money…it's that simple. Your Field Box Seat will cost just $14 per game. That's a savings of over $150 per seat compared to our game day price.
SEASON TICKET HOLDER NIGHT AT CITI FIELD: You have seen former Cyclones like Bobby Parnell, Ike Davis, Dillon Gee, Daniel Murphy and others star in Brooklyn, now here's your chance to see them take the field in Queens. Season tickets holders will receive a complimentary ticket to Cyclones Night at Citi Field (One ticket per seat on account). As an added bonus, the first 100 people who pay in full will be invited to a special meet-and-greet with former Cyclones who now call Citi Field home, prior to that evening's game.
FREE PLAYOFF TICKETS: Nothing beats the excitement of playoff baseball…actually nothing beats the excitement of playoff baseball FOR FREE.
STH EARLY ENTRY: Beat the crowds and ensure that you get that giveaway item you've had your eye on.
FLEXIBLE PAYMENT OPTIONS: We understand that you may need to be work out a payment plan of smaller installments that works for you. Just ask us, we are here to help.
GUARANTEED GIVEAWAY PACKAGE ADD-ON - $75
We are happy to say that your per-game Season Ticket price will not change this season, which means that all 38 Cyclones games and the All-Star Game will cost you $545. That means that for just $14 a game, thanks to all the benefits above, you'll get over $500 of savings and extras while enjoying the great baseball, sneak peeks at future stars, unforgettable entertainment plus all of the Jersday Thursday and weekend fireworks shows that makes the Brooklyn Cyclones the most fun – and the best deal – in town! To renew your tickets, or if you have any questions, please call us at 718 – 37 - BKLYN. Anyone who pays in full by December 15th will have the chance to throw out a ceremonial first pitch before a 2014 Cyclones game (One per account).