Coaches
SEAN RATLIFF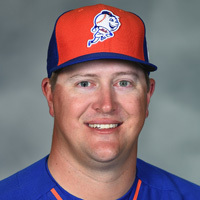 Hitting Coach
• Enters his third season as a coach in the Mets organization, and his second as the hitting coach with the Brooklyn Cyclones.
• Began his professional career with Brooklyn in 2008 after being selected in the fourth round of the 2008 MLB Draft out of Stanford University.
• Started his coaching career with Kingsport (R) of the Appalachian League as a hitting coach.
• As a player, reached as high as Double-A before he was struck in the face by a foul ball, forcing his retirement in 2012.
• Was a two-time Pac-10 First Team All-Conference outfielder and a collegiate Rawlings Gold Glove Award winner in 2008.
• Sean, 29, and his wife Kelly live in Cypress, TX.