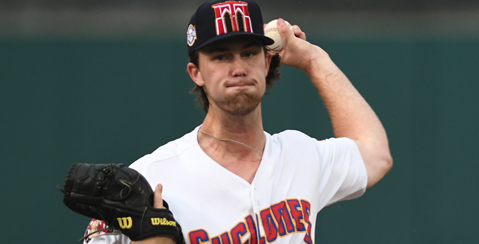 BROOKLYN, NY (July 3, 2018) – Staten Island's Nolan Martinez tossed 6 2/3 strong innings as the Yankees topped the Brooklyn Cyclones, the Short Season, Class A affiliate of the New York Mets 5-1 Tuesday night in the series finale at MCU Park. The Cyclones dropped the rubber match of the three-game series.

For the full box score, click here. For the radio highlight, click here.

W: Martinez (2-0)
L: Huertas (0-1)
Cyclones HR: Sharp (2)
BIG MOMENTS
KEY CYCLONES CONTRIBUTORS
Brian Sharp:

1-4, HR, RBI, R

Kevin Smith:

3 IP, 1 H, 0 ER, 1 BB, 5 K

Tommy Wilson:

2 IP, 1 K

Kevin Hall:

1-3, 2B

NEWS & NOTES
With Tuesday's loss, the Cyclones have dropped consecutive series after beginning the season winning four sets in a row.

The Battle for the Bridge, between rivals Brooklyn and Staten Island, is tied a three game apiece.

Both infielder Carlos Cortes (0-4, 2 K) and reliever Tommy Wilson made their professional debuts.
WHAT'S NEXT
Brooklyn vs. Aberdeen, Wednesday 6 p.m.
MCU Park – Brooklyn, NY
Probables: RHP Briam Campusano (2-1, 2.19 ERA) vs. RHP Jimmy Murphy (1-0, 1.69 ERA)
Tickets: brooklyncyclones.com/tickets
Audio: brooklyncyclones.com/listen