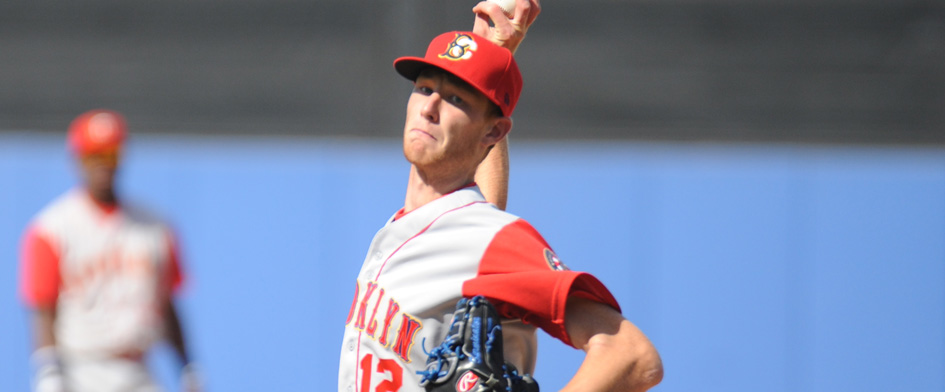 KKKKKKKKKKK-ASEY MEISNER SHINES ON STATEN ISLAND
After a rough game the night before, the Cyclones kept their heads up and returned to Staten Island for the middle game of the three-game series. The Cyclones who only scored one run during last night's one-run extra inning loss, had an offensive explosion in the fifth inning, scoring five runs on seven hits, and went on to defeat the Yankees 8-2.
Going into the top of the third it had ben nine innings since the Cyclones last scored, said run being their lone run of yesterday's game that was scored in the top of the third. When the Cyclones got the run across in Monday night's game, there was the possibility of driving in more but their potential big inning was thwarted.On Tuesday however, Brooklyn was able to explode with a five run top of the third to take a commanding lead, which they would not relinquish for the rest of the evening. Consecutive singles by Michael Bernal, Tucker Tharp, and Alfredo Reyes would get the ball rolling and put Brooklyn ahead of the baby bombers 1-0.
After a ground out from Adrian Abreu that would score Tharp, Amed Rosario hit an rbi single up the middle to drive in Reyes.Michael Conforto would then ground out but another string of consecutive singles, this time from Jhoan Ureña, Tyler Moore, and Pedro Perez would drive in another two runs, putting Brooklyn ahead 5-0.
Staten Island would try to mount a comeback in the bottom of the fourth, but would only manage to get one run across in the inning, while the Cyclones responded with a two run top of the fifth. After a single by Conforto, Ureña entered the box and hit a blast that would drop in for a triple. Moore would then reach on an error and Ureña would score, putting Brooklyn up 7-1.
Casey Meisner had another strong outing for Brooklyn, scattering four hits across 6.0 innings, giving up one run while striking out 11 batters.
The Yankees would get one more run across in the eighth, but it would not enough to catch the Cyclones as Brooklyn would go on to win 8-2 and hold onto their 2.0 wild card race lead.
The Cyclones continue their playoff hunt on Wednesday at home against the Yankees before heading back out on the road. The team will be celebrating 90s Are All That Night at the ballpark presented by Nickelodeon, and all tickets are just $10. Make sure you're at the stadium and cheering the Cyclones on as they try to extend their season. To purchase tickets visit the MCU Park box office, call 718-507-TIXX, or visit BrooklynCyclones.com.