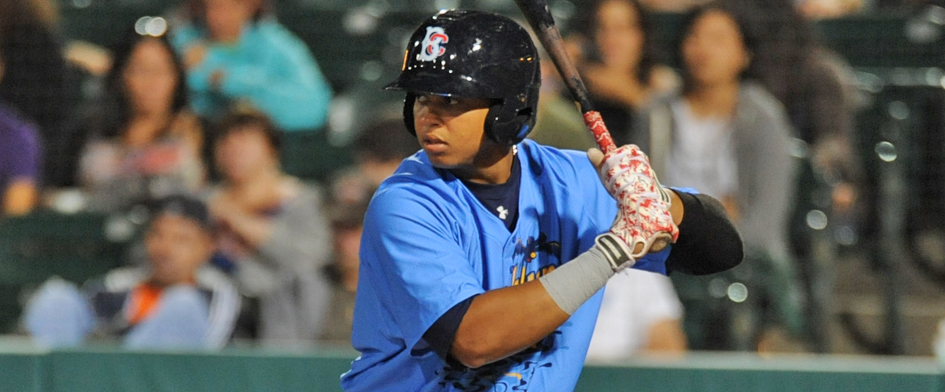 CYCLONES POUNCE ON VALLEYCATS, 7-0
With the Cyclones in a dead heat race for the lone wild card spot in the New York-Penn League, every game is important. The Cyclones took that to heart on Friday night, making sure their pitchers had as much support as they could. Brooklyn put up seven runs over the course of two innings, which would be more than enough to defeat the Tri-City ValleyCats. With their win on Friday, the Cyclones keep their two-game wild card lead.
Brooklyn began their great day at the plate with a three-run second inning that got started with consecutive singles by Jhoan Ureña and Tomas Nido to start the inning. Nido's single would extend his hitting streak to 11 games. With Tyler Moore at the plate, during the next at-bat, a wild pitch would advance the runners. Ureña would come around to score on a sacrifice fly by Moore to give Brooklyn the lead. Hits from Michael Bernal and Tucker Tharp, as well as a costly error by the ValleyCats shortstop Mott Hyde would plate two more runs.
The Cyclones then blew things wide open with an explosive bottom of the third. With hits coming from Pedro Perez, Michael Conforto, Ureña, Moore, Tharp and Alfredo Reyes, the Cyclones were able to tack on four runs. Ureña drove in a run with an rbi-single, an error on the catcher Alfredo Gonzalez would score Conforto, while rbi singles from Moore and Tharp would plate another two runs and give Brooklyn a 7-0 lead.
Despite a few rough innings where he found himself in a few jams, including a bases loaded situation in the top of the first, Brooklyn starter Martires Arias tossed 5.0 shutout innings. Although it took him over 100 pitches to make it through his outing, Arias only gave up three hits, but walked six, and struck out six as well. With Brooklyn holding onto the lead Martires would pick up his second win of the season.
The score would stay the same for the remainder of the game, and with their big win over the ValleyCats and Connecticut defeating the Hudson Valley Renegades, the Cyclones maintain their two game lead in the wild card race and pull within six games of the Renegades in the McNamara division.
Brooklyn will continue their home stand against Tri-City on Saturday and Sunday as they push for the postseason. With tickets just starting at $10, there's no reason to not be at MCU Park and cheering on the Brooklyn boys of summer. To purchase tickets, visit the MCU Park Box Office, call 718-507-TIXX, or make a few clicks right here at BrooklynCyclones.com.