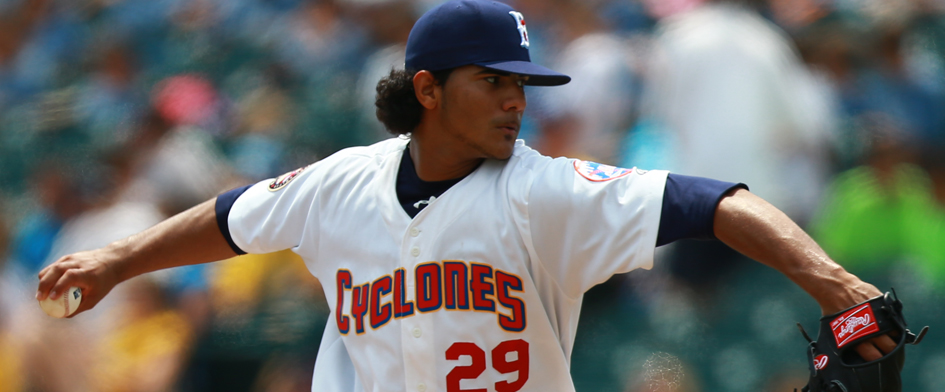 MOLINA MOWS DOWN LAKE MONSTERS, BROOKLYN WINS 7-0
All-Star Marcos Molina continued his dominance of the New York-Penn League on Friday night, allowing just one hit over his 7.0 shutout innings while striking out a career-high 12 batters. It was the third consectuvie start that the 19-year-old fireballer established a career-high in strikeouts as he led the Cyclones to a 7-0 victory.
Brooklyn jumped on the board in the fourth inning with some small ball to take a 1-0 lead. Michael Conforto led off the inning with a walk but would head back to the bench after Jhoan Ureña would ground into a fielder's choice. With Ureña at third, Tomas Nido slapped a single into right, moving Jhoan all the way over to third base. With runners on the corners, Michael Bernal drove in his 32nd run of the season, plating Ureña with a single of his own.
In the sixth, the Lake Monsters went to their bullpen, bringing in Blake McMullen, but the move would backfire as the Cyclones would blow things wide open with a great inning at the plate, to put the Lake Monsters a five run hole. Conforto got things started once again by reaching base, this time with a single. Two batters later, after an Ureña strikeout, Nido hit a double to left, putting two runners in scoring position with just one out. Tucker Tharp then worked a walk to load the bases for Pedro Perez.
The Cyclones first baseman who has been on the team for just a short while, hit a single to bring in Conforto. A throwing error by Vermont's left fielder Max Kuhn would move each runner up 90 feet, scoring Nido, moving Tharp to third, and Perez to second. Adrian Abreu would strikeout looking, but with two outs and two runners still in scoring position, Anthony Chavez was able to hit a double to left that would score both Tharp and Perez, giving the Cyclones a 5-0 lead.
Brooklyn would tack on another run in the top of the seventh after some more poor play by the Lake Monsters. Conforto once again led off the inning by getting on base, just to shake things up; a pitch hit him this time. Conforto would advance to second on a ground ball out by Ureña, and then advance to third on a wild pitch during Nido's at-bat. Moments later Nido would ground out, but it would be enough to drive in Conforto and put Brooklyn ahead by six.
Molina would return to pitch the bottom of the seventh. After the perfect seventh inning, Molina would take a seat, but not before pitching 7.0 innings of one-hit baseball, and striking out 12 batters. His 12 punch outs is the most by any Cyclones pitcher in a single game this year, Molina topped the previous high of 11 strikeouts, which he set just a week ago against Batavia.
Luis Rengel entered in the bottom of the eighth in relief, and toss a perfect inning to take the game into the final inning. In the top half of the ninth, the Cyclones increased their lead by another run on a leadoff solo shot off the bat of Jhoan Ureña, making it the second day in a row that he has gone yard. Edgiolis Villasmil through a scoreless bottom of the ninth to set down the Lake Monsters one last time on Friday night as the Cyclones went on to win 7-0.
Brooklyn will have a few off days following their series against Vermont for the 2014 New York-Penn League, which is being hosted at MCU Park. The Cyclones return home on Thursday, August 21st for the final Jersday Thursday of they year as they take on the Staten Island Yankees. Tickets for the All-Star Game and future Cyclones just start at $10 and can be purchased by visiting the MCU Park box office, by calling 718-507-TIXX, or by making a few clicks right here at BrooklynCyclones.com