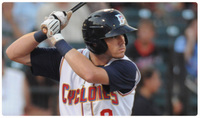 Troy, NY – August 15th –
Jayce Boyd went 2-for-5 with the only RBI for the Cyclones on Wednesday night as Brooklyn fell to the Tri-City ValleyCats 6-2.
Both teams were held scoreless until the bottom of the fourth when Tri-City put two runs on the board. Brooklyn starting pitcher Luis Cessa gave up three consecutive singles to load the bases. Then, Jarrod McKinney came to the plate and singled on a ground ball to Cessa, who committed a throwing error. Jesse Wierzbicki and M.P. Cokinos both scored on the play. Cessa got the next batter, Ryan Dineen to strike out swinging before Emilio King grounded out to end the inning.
The Cyclones had a man on third in the fifth, after Juan Gamboa walked and reached third on a Tri-City fielding error, but were unable to capitalize on their chance to score. The ValleyCats, on the other hand, put up another run in the bottom half of the frame. With one out, Neiko Johnson reached first on a throwing error by third baseman Dimas Ponce. He then crossed the plate when Preston Tucker doubled on a fly ball to left field.
Eudy Pina led off the top of the seventh with a double, followed by a single by Brandon Nimmo. Phillip Evans then reached on a fielder's choice, and Nimmo moved to second. With Jayce Boyd batting, Tri-City reliever Jeremiah Meiners threw a wild pitch, allowing Pina to score and the runners to advance. Boyd grounded out to the shortstop, but Nimmo came home on the play to cut the ValleyCats' lead to just one run.
But, in the bottom of the seventh, Tri-City retaliated by scoring two more runs to make it 5-2. Joe Sclafani hit a one-out single before Johnson walked. David Wynn then came in to replace Tim Peterson on the mound; and with Preston Tucker batting Sclafani stole third and Johnson stole second. Tucker hit a line-drive RBI single to center to score Johnson. Jesse Wierzbicki then walked before Cokinos hit a sacrifice fly to score Tucker.
In the eighth, the ValleyCats picked up one last run. Ryan Dineen walked with one out and advanced to second on a passed ball by Kevin Plawecki. Back-to-back singles by King and Sclafani brought Dineen home.
ValleyCats starter Juri Perez earned his first win of the season after going 5.0 scoreless innings. He held the Cyclones to three hits with four walks and five strikeouts. Luis Cessa (3-4) suffered the loss. He allowed two unearned runs off five hits to the ValleyCats through 4.0 innings. Cessa walked none and struck out five.
The Cyclones will face the Tri-City ValleyCats again tomorrow night at 7:00 PM. The team will return to MCU Park on Tuesday, August 21st to take on the ValleyCats at home. First pitch is scheduled for 7:00 PM; and the first 3,000 fans in attendance will receive a Bobby Parnell t-shirt jersey presented by Caesars. Tickets are available now by visiting the MCU box office, calling 718-507-TIXX, or
CLICKING HERE
.
-Courtney Nunes
BrooklynCyclones.com