News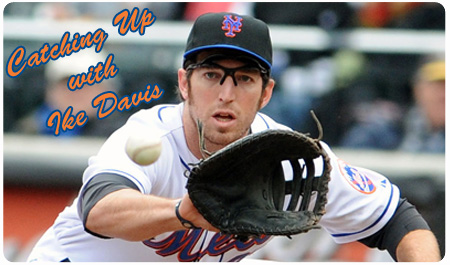 Recently Ike Davis took a few moments to sit down with BrooklynCyclones.com and chat about the place where he began his professional career, his rookie season with the Mets and how he's spending his first major league off season. Here's how it went.
Brooklyn Cyclones.com: How would you rate your first season in the big leagues?
Ike Davis: Overall it was a positive experience. I wish the team performed a little better, and I would like to cut down on the length of some of my slumps, but overall it was a pretty good year. Definitely a good jumping off point for what I hope to accomplish going forward.
BC: What was it like when you first got that call to up to the Mets?
ID: It was actually pretty crazy. I was in Buffalo, we had an afternoon game, so I was in my uniform getting ready to play when they told me I got called up to play with the big club. The rest of the day happened so fast, but I remember all I kept telling myself was just don't throw up and go out and play the game. But once I took the field and got my first at-bat it started to feel just like every other game I had ever played in.
BC: What was your favorite stadium to play in?
ID: Obviously Citi Field was my favorite, the electricity there when the place is full is unbelievable. But other than that I really liked playing at Wrigley Field. I hit a couple of home runs when we were there which helps, but I grew up watching Mark Grace and the Cubs play. When I was a kid, Arizona didn't have a team, so the only games we got to watch were the Cubs on WGN. So being there and playing there was a great experience.
BC: How did playing in Brooklyn help you get to where you are today.
ID: Well to be brutally honest, I didn't really play that well in Brooklyn, I don't even think I hit a home run the whole summer. So it helped me learn how to deal with adversity. It was one of the first times in my life I had a prolonged slump, so it helped me grow as a player. Plus just being in New York and experiencing the passion of the fan base, that helped me be prepared for what it was like when I came back with the Mets.
BC: Did you see "the flip" bobblehead of you that they gave away at MCU Park this season?
ID: I did. It was definitely unique to say the least. I actually had one of them in my locker at Citi Field for a while. The guys on the team gave me a hard time about it because I was a rookie and had my own bobblehead, but it was a great idea. It's crazy to me how popular those catches were. I played baseball my whole life and never even had a chance to make one catch like that, then I'm with the Mets for six weeks and make three of them.
BC: How has your off season been going?
ID: It's been good. I was able to go away to Mexico for a little while, did some hunting with my buddies. I came to New York and did some stuff over at Citi Field and I actually was able to go to a Knicks game. I'm a big fan of Amar'e because of what he did in Phoenix, but he's having an amazing year.

BC: Thanks for your time Ike. Best of luck in 2011 and hopefully we'll get you back out to Coney Island this year.