News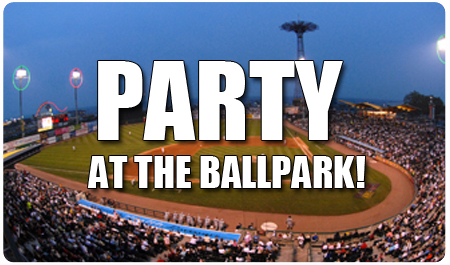 In addition to housing championship baseball and unexpected entertainment, KeySpan Park is an ideal and unique setting for corporate outings, team building sessions, seminars, birthday parties, communions, bar and bat mitzvahs, and more!

When you book KeySpan Park for your outing or party, you can customize the experience in hundreds of ways. Just some of what's available to you includes:
The Field – Your group can play softball or baseball on the same field the pros use.
The Brooklyn Baseball Gallery – The ballpark's one-of-a kind museum offers an elegant and intimate setting, adorned with artifacts and memorabilia from Brooklyn baseball's glorious past to its shining present and future.
The Big Screen – The Gallery also houses a screening room, with a 96" projection screen and surround sound audio, making it perfect for video or Power Point presentations.
The Big Space – Adjacent to the Gallery, the KeySpan Park main lobby is a 1,452 square foot space that can be tailored to any gathering. Buffet tables, carving stations, interactive games, roundtable discussions – all this and more fit perfectly in the loft-like open space, and are enhanced when set against the backdrop of Brooklyn baseball.
The Game – To cap it all off by treating your group to the excitement and energy of a Cyclones game, complete with all the action and entertainment that makes the team the hottest ticket in town.
When you combine these elements, and more, you'll create an experience that your employees, colleagues, friends, and family will never forget.
Put
your
team on
our
field, and let us customize a one-of-a-kind outing for you!