News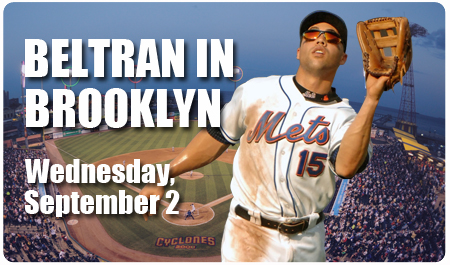 It was already called Wild Wednesday! And now this?

New York Mets All-Star centerfielder Carlos Beltran is scheduled to play for the Brooklyn Cyclones on Wednesday, September 2nd, as part of a major-league rehab assignment.
Mets centerfielder Carlos Beltran was examined by Mets Medical Director Dr. David Altchek at the Hospital for Special Surgery in Manhattan on Monday. Beltran has been cleared to begin a rehab assignment playing without his knee brace. He is scheduled to play this Wednesday night in Brooklyn with the Cyclones when they host Hudson Valley at KeySpan Park.

When he makes his Cyclones debut, he will be the most accomplished player ever to take the field for the franchise. Beltran is a five-time National League All-Star, three-time Gold Glove winner, and was the 1999 American League Rookie of the Year. In 2004, Carlos tied a playoff record with eight home runs in one postseason.

Watch him play up close for the Brooklyn Cyclones on Wednesday, September 2nd, on a Wild Wednesday that also features post-game fireworks, a team photo giveaway, BOGO hot dogs, and an appearance by Reggy, the purple party dude. Wednesday's game starts at 7pm, with the KeySpan Park gates opening at 5:30pm.