News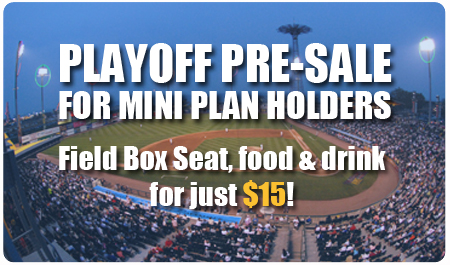 The first-place Cyclones are charging towards another postseason run, and we want you at the ballpark to cheer on the team. That's why we're offering Mini Plan Holders a fantastic deal on 2009 playoff tickets – just $15 for the best seats in the house, and free food!
Beginning on Thursday, August 20th at 10am, Mini Plan Holders will have an exclusive pre-sale opportunity to purchase 2009 Playoff tickets before they go on sale to the public. To take advantage of this opportunity, simply call 718-507-TIXX or click here during the pre-sale period, and use the code you received in a recent mailing. By doing so, you can secure your 2009 Playoff tickets before they go on sale to the general public!
When you your the code to purchase Playoff tickets starting on August 20th, you'll get a $15 Field Box seat, plus a voucher for a FREE hot dog or hamburger from our grill, chips, and a soft drink. You'll get one free food voucher with every playoff ticket you buy.
Playoff games are currently designated as Game A through Game D. We will announce specific dates and times for postseason games as the Playoff picture is finalized. In the event that games are not played, the credit card used for payment will automatically be credited for the face value and per ticket fees. You will not have to return your tickets.
Use your code to get playoff tickets now, and eat for free at the game!
We hope you'll take advantage of this great deal, and support the Cyclones in the race for the 2009 NYPL Championship! And don't forget, there are still plenty of great regular-season games still in store. We thank you again for all your support this season, and hope to see you during the season's final month – and into the playoffs!
Full Season Ticket Holders' FREE playoff tickets are being mailed to them if they were not picked up at the ballpark.