News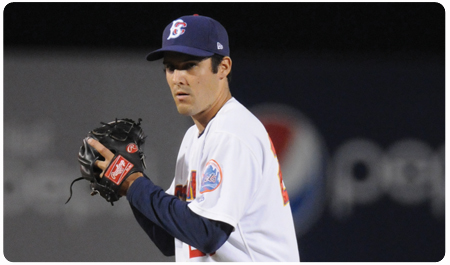 Box Score

The Brooklyn Cyclones (33-19) scored three times in the ninth inning to beat the Mahoning Valley Scrappers (3-19) by a score of 4-2 on Tuesday night. The Brooklyn win ties the Cyclones and Scrappers for the best record in the New York-Penn League.

With the Cyclones trailing 2-1 entering the final inning, Brooklyn scored all three times to take the lead. Tyler Vaughn was hit by a pitch, and Nick Santomauro reached on a failed fielder's choice to give Brooklyn two men on base. Scott Grimes then singled to drive in Vaughn, and an error on the play allowed Santomauro to score from first, and Grimes to go all the way to third. Dock Doyle followed with another single to drive in Grimes, and give the Cyclones an insurance run.

Starting pitcher Brandon Moore allowed just two runs on four hits in 7.2 innings. he did not receive a decision. Michael Powers (pictured, by George Napolitano) pitched the final 1.1 innings, and did not allow a hit, as he earned his second win of the season, to go along with his league-best 10 saves.

The Cyclones return to Brooklyn on Friday, August 14th to kick off a series with the Oneonta Tigers. On the 14th, fireworks will accompany the Friday night game.
Click here to get your tickets, or call 718-507-TIXX