News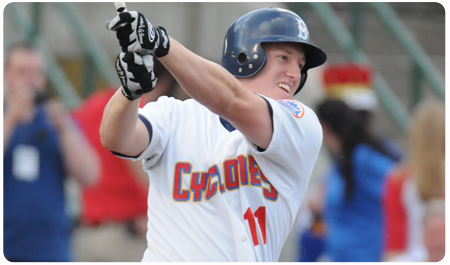 Box Score

The Brooklyn Cyclones (32-19) beat the Jamestown Jammers (20-31) by a score of 8-4 on Sunday night to win the last game of the series, heading into Monday's NYPL-wide off day.

LHP Mark Cohoon pitched another gem, earning his league-leading seventh win with 7.0 strong innings. Cohoon allowed three runs on three hits in the second inning, but did not allow a run in any other frame. He allowed six hits in total, one walk, and struck out five batters. Matias Carrillo came on in relief in the eighth inning, and closed out the Jammers with 2.0 innings, in which he allowed just one hit -- a solo home run.

The Cyclones' offense racked up 14 hits in the game, with Sam Honeck going 4-for-4 to lead the charge. Honeck (pictured, by George Napolitano) scored once and drove in two. Nick Santomauro, Alex Gregory, and Matt Gaski registered two hits eacfh, and Dock Doyle, Ralph Henriquez, John Servidio, and Nick Giarraputo had one hit apiece.

After a day off on Monday, the Cyclones travel to Mahoning Valley for a three-game set, before returning to Brooklyn on Friday, August 14th to kick off a series with the Oneonta Tigers. On the 14th, fireworks will accompany the Friday night game.
Click here to get your tickets, or call 718-507-TIXX