News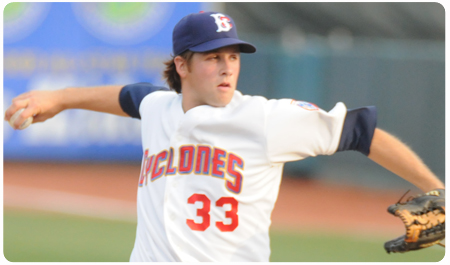 Box Score

Despite a stellar outing by starting pitcher Collin McHugh, the Brooklyn Cyclones (26-12) lost to the Aberdeen IronBirds (16-23) on Tuesday, by a score of 2-0.

McHugh (5-2) was the hard luck loser, pitching seven innings, and allowing just two runs (one earned) on four hits. McHugh (pictured, by George Napolitano) issued three walks and struck out five batters.

The Cyclones did manage eight hits -- two for 3B Tyler Vaughn, and one hit each for 1B Sam Honeck, LF Evan LaBlanc, SS Robbie Shields, DH Ralph Henriquez, C Juan Centeno, and CF Justin Garber. The Cyclones scored their first run in the seventh inning on an RBI groundout by Centeno that scored Henriquez.

LHP Brandon Sage pitched a scoreless eighth and ninth innings in relief of McHugh. He allowed one hit, no walks, and struck out two.

On Wednesday, the Cyclones take on the rival Staten Island Yankees in a doubleheader, starting at 6pm. Reggy, the Purple Party Dude, will be at the ballpark to entertain the fans, and it will be Weiner wednesday, with Lucky Hot Dog Night (when every dog's a weiner)!

On Thursday, the teams will square off again in the last regular-season matchup between the two teams at home this year. That night is Irish Heritage Night, with the first 2,000 adults (21 and over) in the ballpark receiving a Commemorative Green Irish Night T-Shirt, courtesy of Budweiser.
Click here to get your tickets, or call 718-507-TIXX