News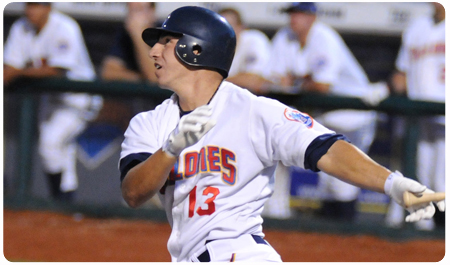 Box Score

The Brooklyn Cyclones (20-9) defeated the Auburn Doubledays (9-20) by a score of 11-3 at KeySpan Park on Saturday night. The victory gets Brooklyn to the 20-win mark faster than any Cycones team in franchise history.

It was a familiar formula in Brooklyn which included strong starting pitching from LHP Mark Cohoon (5-1). Cohoon allowed two runs over six innings, and struck out five batters as he earned his league-leading fifth win of the season.

The Cyclones' offense exploded for 11 runs, thanks in part to a season-high four home runs in the game. RF John Servido (pictured, by George Napolitano) drilled two no-doubt home runs, the first a solo shot off the scoreboard in left-centerfield. The second home run for Servidio was a two-run shot over the left-centerfield wall. 3B Tyler Vaughn led off the sixth inning with a solo home run to left field, and 2B Andy Green went deep in the eighth inning for a two-run shot to left center field (on the last day of "Green Week," no less).

The rest of the Cyclones' runs were a result of patient hitting. In the fourth inning, Brooklyn loaded the bases on walks by Green and LF Luis Rivera, before 1B Sam Honeck singled to load the bases for DH Dock Doyle. Doyle and Vaughn capitalized with back-to-back RBI singles that scored Green and Honeck, and gave Brooklyn a 2-1 lead. In the fifth inning, after a walk and two hit batsmen, Honeck cleared the bases with an RBI double over the centerfielder's head.

LHP Brandon Sage relieved Cohoon in the seventh, and allowed one run on two hits and struck out two. LHP Lance Hoge came on in the ninth inning in relief, and allowed just one walk in a scoreless frame of work.

The Cyclones wrap up their six-game homestand on Sunday night with one of the most anticipated promotions of the year: Bellies and Baseball: A Salute to Pregnancy. The Cyclones invite expectant parents to KeySpan Park for the 5pm game against the Doubledays, when expectant mothers can run (walk) the bases barefoot, endulge in a craving station, expectant fathers will compete in tricycle races between innings, and more. Additionally, any expectant mother who agrees to name her baby 'Cy' or 'Brooklyn' will be rewarded with season tickets for life.
Click here to get your tickets, or call 718-507-TIXX