News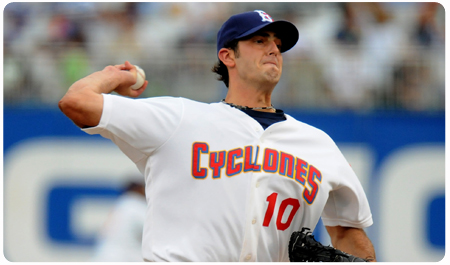 Box Score

The Brooklyn Cyclones (18-8) snapped a four-game losing streak with a 4-3 victory over Williamsport (14-12) in the second of a three-game series between the two teams.

The Cyclones put their ace, RHP Brandon Moore, on the mound. Moore (pictured, by George Napolitano) tossed 8.0 strong innings, allowing two runs on four hits to earn his league-leading fourth win of the season. Moore notched nine strikouts, giving him 34 on the year; the most of any Cyclones pitcher. Moore has walked just two batters all year.

The Cyclones took an early 1-0 lead in the bottom of the first inning when 2B Andy Green scored on a throwing error. In the fifth, SS Angel Berroa put another run on the board with an RBI single to score 3B Nick Giarraputo. 1B Sam Honeck then drove in Berroa for the second run of the inning. DH Ralphie Henriquez lead off the sixth with a double to left and Giarraputo drove him in for his 13th RBI of the season.

That was all Moore and the rest of the Cyclones bullpen would need from their offense as RHP Mike Powers would come in for his fourth save of the season.

The Cyclones wrap up the series with Williamsport on Thursday, in the only day game of the season at KeySpan Park. First pitch is scheduled for 12 noon.
Click here to get your tickets, or call 718-507-TIXX