News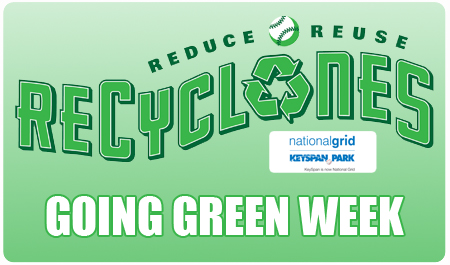 Call them the "Re-Cyclones."

From July 14th through the 18th, the Brooklyn Cyclones and National Grid will present Going Green Week at KeySpan Park. KeySpan is now National Grid.

"We are extremely excited about our Going Green partnership with National Grid," said Cyclones General manager Steve Cohen. "The partnership gives both organizations an opportunity to share information, and get fans involved in initiatives that will benefit the entire planet, and generations to come."

"We all need to work together to improve the environment, and the Going Green partnership with the Cyclones is a good example of how our combined efforts demonstrate the power of action to bring about change," says John Caroselli, executive vice president of Customer and Markets for National Grid. "National Grid is committed to safeguarding the global environment for future generations. We're dedicated to reducing our own greenhouse gas emissions and helping our customers do the same by providing them with opportunities and incentives to be more energy efficient."

The Cyclones' Going Green Week will feature National Grid expo tables on the ballpark's concourse level to educate and motivate fans, regarding ways to be more environmentally conscious.

National Grid also offers a variety of energy efficiency tips, valuable rebates for the installation of energy efficiency products and information on its Web site, www.thinksmartthinkgreen.com.

On July 14th, the first 2,500 fans in attendance will receive Going Green tote bags, presented by National Grid.

On July 18th, the first 2,500 fans in attendance will receive a 100% Organic Cotton T-shirt, presented by National Grid. That night, the Cyclones will also be wearing Bamboo Jerseys, made of all-natural fibers.

The Cyclones' website, brooklyncyclones.com, also features a Going Green tab, with even more education information and ways that fans can "Go Green" to help protect the environment.