News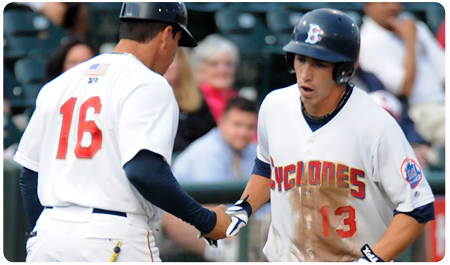 Box Score

The Brooklyn Cyclones (10-2) remain undefeated at home on the strength of their starting pitching, and timely hitting. RHP Collin McHugh pitched six strong innings against the Tri-City Valley Cats (5-5). McHugh allowed just three runs with eight strikeouts and only walked two to earn his league-leading third win of the year.

After Tri-City took an early lead, 1B Sam Honeck tied the game at 1-1 in the first inning on an RBI single that scored CF John Servidio. CF Servidio (pictured, by George Napolitano) provided more power to the Cyclones' offense with a laser-shot solo home run in the third inning over the left field wall. It was Servidio's third home run this season. DH Ralph Henriquez also doubled in the third inning to score Honeck. Henriquez then scored on a single by LF Luis Rivera.

RHP Sam Martinez relieved McHugh, he went 0.2 innings with no strikeouts and surrendered two walks. LHP Matias Carillo relieved Martinez and he promptly struck out the first batter he faced, with the bases loaded, for the third out. Carillo earned a hold after pitching a scoreless eighth inning. He has yet to allow a run this season.

RHP Michael Powers stranded a runner on third base (who reached base on an error by the second baseman) when he struck out the last two batters of the game for his second save of the season.

The Cyclones continue their series with the Tri-City Valley Cats on Thursday night, and fans can take advantage of a special Eat For Free deal!. On Thursday, the first 2,500 fans in attendance will also receive an Edgar Alfonzo T-Shirt, presented by Long Island University.
Click here to get your tickets, or call 718-507-TIXX