News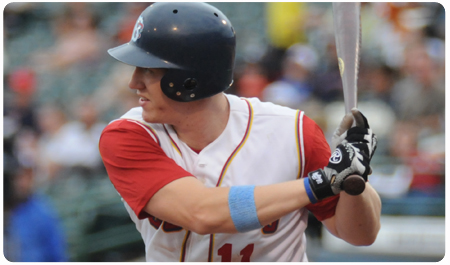 Box Score

The Cyclones (9-2) closed out their three-game sweep of the Hudson Valley Renegades (4-7) on Tuesday night at KeySpan Park, after brief showers delayed the start of the game until 7:28 PM

Brooklyn's starting pitcher, Jim Fuller (2-0), pitched a solid 7.0 innings, giving up one run on eight hits, while notching six strikeouts. Fuller's ERA now stands at 0.69 on the year, and he has racked up 13 strikeouts. Matias carrillo pitched a perfect eighth for the hold, and Michael Powers shut down the Renegades in the ninth to earn his first save of the year.

The Cyclones' heart of the order provided the offense on Tuesday, with the three, four and five hitters going a combined 4-for-10. 1B Sam Honeck (pictured, by George Napolitano) went 1-for 4 with an RBI sacrifice fly and a run scored. 3B Nick Giarrauputo helped spark a fourth inning rally for the Cyclones with an RBI double deep into the right center gap, giving him nine RBI on the year. C Dock Doyle followed up with an RBI single in Brooklyn's two-run bottom of the fourth.

The Cyclones begin a three-game series with the Tri-City Valley Cats on Wednesday night. The first 2,500 fans in attendance will receive a Schedule Pen, presented by 4C.
Click here to get your tickets, or call 718-507-TIXX