News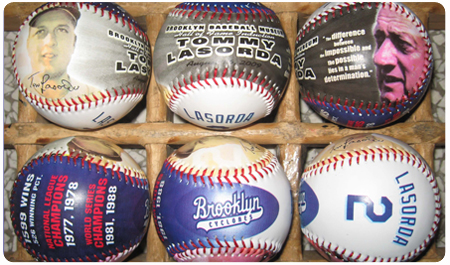 Hall of Fame manager Tommy Lasorda is a baseball icon, and perhaps the most prominent ambassador of the game. His major league career began in 1954 when, as a 26-year-old lefthanded pitcher, he made his debut for the Brooklyn Dodgers.

On Sunday, August 16th, Lasorda will return to Brooklyn, and will be honored by the Cyclones in a special pre-game ceremony, starting at 4:30pm, in which he will be inducted into the Brooklyn Dodgers Hall of Fame. In addition, the first 1,500 fans (ages 15 and over) in attendance will receive a Tommy Lasorda photo baseball (pictured). The photo ball features an image of Lasorda as a Brooklyn Dodger, a current image of the baseball legend, his number 2, some of his managerial highlights, and a quote from Lasorda.
Lasorda also holds another connection with Brooklyn baseball history. On June 8th, 1955, he was optioned to the minor leagues by the Dodgers to make room on the roster for another southpaw -- an up-and-coming youngster by the name of Sandy Koufax.
Lasorda pitched in the majors for just three seasons, but went on to make his mark as one of the greatest managers in the history of the game. Known for his fondness of pasta and pitching, the jovial Lasorda led the Dodgers to eight division titles and two World Championships in 21 seasons as manager. After his retirement, he became a Dodgers executive, and his association with the club has spanned six decades. He also managed the United States to its first-ever gold medal in baseball at the 2000 Sydney Olympics.
Lasorda became the Los Angeles manager in 1976, and compiled a 1,599-1,439 record, won two World Series championships in (1981 and 1988), four National League pennants and eight division titles. His 16 wins in 30 NL Championship games managed were the most of any manager at the time of his retirement. His 61 post-season games managed ranks fourth all-time behind Bobby Cox, Casey Stengel and Joe Torre. He also managed in four All-Star Games.
2009 marks his sixth decade in one capacity or another with the Brooklyn/Los Angeles Dodgers organization, the longest non-continuous (he played one season with the Kansas City Athletics) tenure anyone has had with the team, edging Dodger broadcaster Vin Scully by a single season.
Tommy Lasorda was inducted into the Baseball Hall of Fame in 1997 -- his first year of eligibility -- and his Hall of Fame plaque reads:
THOMAS CHARLES LASORDA
LOS ANGELES, N.L., 1977-1996

ONE OF BASEBALL'S MOST ENGAGING PERSONALITIES
AND A GREAT AMBASSADOR FOR HIS SPORT. MANAGED
DODGERS WITH AN IMPENETRABLE PASSION, CLAIMING
TO "BLEED DODGER BLUE." IN HIS 47TH SEASON
WITH THE DODGERS ORGANIZATION WHEN HE RETIRED
AS MANAGER. FOURTH MANAGER IN HISTORY TO
GUIDE SAME FRANCHISE FOR 20 YEARS, DURING
WHICH HE WON EIGHT DIVISION TITLES, FOUR N.L.
PENNANTS AND WORLD CHAMPIONSHIPS IN 1981 AND
1988. 61 POST-SEASON GAMES MANAGED RANKS SECOND
MOST IN HISTORY.