News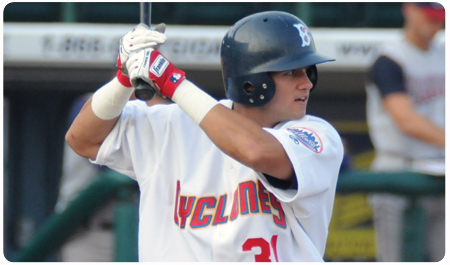 Box Score

The Brooklyn Cyclones (4-1) scored 10 runs on 12 hits to defeat the Hudson Valley Renegades (2-3) on Wednesday night. Brooklyn is in sole possession of first place in the McNamara Division, after five games of play.

On Wednesday, 2B Matt Bouchard and LF Alex Gregory led the charge for the Brooklyn lineup. Bouchard (pictured, by George Napolitano) went 4-for-5 with two runs scored and one RBI, and had three doubles and one single. Gregory went 3-for-5 with two doubles of his own, one triple, two runs, and two RBI. RF Luis Rivera went 2-for-5, with a double, a run scored, and two RBI. In total, Brooklyn notched seven doubles in the game.

LHP Jim Fuller earned the win in his first start of the season, pitching 6.0 innings, and allowuing just one unearned run on three hits, while striking out seven batters. LHP Brandon Sage followed with 2.0 strong innings, in which he allowed just one unearned run on two hits, and John Church closed out the game in the ninth.

The Cyclones now travel to Aberdeen, before returning to Brooklyn on Sunday for another exciting game. The 5pm game against the Renegades will feature American Girl giveaways and it will be Girl Scout Night at the ballpark. In addition, the first 2,500 fans in attendance will receive Logo Baseballs, courtesy of Astella Pharma US, Inc. in partnership with Donate Life.
Click here to get your tickets, or call 718-507-TIXX