News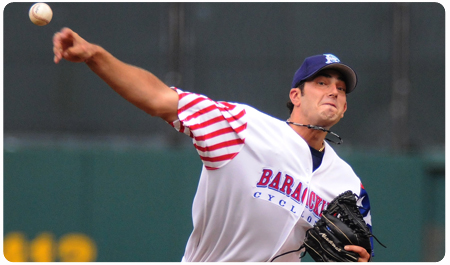 The Baracklyn Cyclones (3-1) stayed undefeated at home with a 7-3 win on Tuesday night over the Hudson Valley Renegades (2-2). The game featured the promotion of the year, with Brooklyn transforming into Baracklyn for one night. Pre-game festivities included ceremonial pitches by Obama Girl the president himself (sort of). The first 2,500 fans also received a collector's item Baracklyn bobblehead.

When the game began, the Cyclones hit the ground running, scoring three runs in the first two innings to take a lead they would never relinquish. In the bottom of the first, Baracklyn loaded the bases for Ralph Henriquez, who took a walk on four straight pitches to take the early lead. Hudson Valley's pitching surrendered five walks in the first two innings of play. Luis Rivera added an RBI single in the first, as well.

Juan Centeno continued his impressive play to start the season, going 2-for-4 with one RBI. Alex Gregory chipped in with a two-run double with the bases loaded in the bottom of the fifth.

The Cyclones were in control the whole night; at one point leading the Renegades 7-0. Brandon Moore pitched a spectacular game, going 7.0 shutout innings, giving up just four hits and notching four strikeouts.

(photos by George Napolitano)

The Cyclones hit the road for four games, before returning to Brooklyn on Sunday for another exciting game. The 5pm game against the Renegades will feature American Girl giveaways and it will be Girl Scout Night at the ballpark. In addition, the first 2,500 fans in attendance will receive Logo Baseballs, courtesy of Astella Pharma US, Inc. in partnership with Donate Life.
Click here to get your tickets, or call 718-507-TIXX