News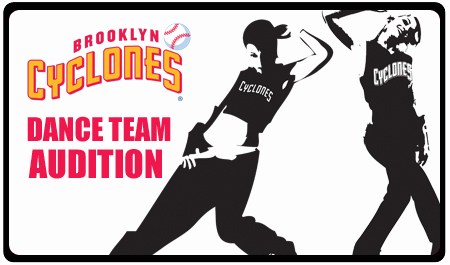 Since the team's inception in 2001, the Brooklyn Cyclones Beach Bums have enhanced the overall fan experience by infusing energy and enthusiasm into each home game.

This summer, the Brooklyn Cyclones are reinventing our Beach Bum squad. We are looking to hire twelve, energetic, outgoing, dedicated and talented dancers to perform for crowds of thousands at KeySpan Park.

Audition
Saturday, May 16th – Interviews & Auditions • Location: KeySpan Park, 1904 Surf Avenue, Bklyn, NY 11224
Time: 10AM to 2PM • Mandatory Check-In @ 9AM

Eligibility & Responsibilities
Must be 17 years of age or older
Must be available to attend rehearsals 2 to 3 times a week, all home games, and promotional appearances
Must be able to provide own transportation to and from rehearsals, games, and promotional appearances
Duties will include, but are not limited to: front and back gate giveaway distribution, helping with on-field contests, fan interaction on the concourse or in stands, working special fan interaction booths, and performing cheers and dances
Each inning, performers will be assigned to either prepare for an upcoming on-field contest, fan interaction (concourse or section) or other various tasks such as candy distribution, etc.

Application Process
Applicants must submit a non-returnable, recent photo for identification purposes
Please include resume and the signed general release & waiver
We recommend that applicants be pre-registered and posted marked by Monday, May 11th.
To register for 2009 Beach Bum tryouts please download, complete, and return the Audition Application to:

Brooklyn Cyclones
Beach Bum Tryouts
1904 Surf Avenue
Brooklyn, NY 11224

Fax: 718.449.6368
Email: liz@BrooklynCyclones.com

Attire
Dance attire recommended; Please arrive with hair and make-up complete

Audition Process
Contestant registration check-in. Check in begins at 9am, auditions start at 10AM. There are three rounds of the audition process.
Preliminary Round: All contestants will be taught a dance combination. Immediately following the teaching portion, contestants will perform the dance combination in groups of five in front of the panel of judges. The first round of cuts will be made.
Interview Round: The remaining contestant's will be interviewed by a panel of judges. Contestants must stay until the end of the interview process to see if they are chosen for the final round.
Final Round: The remaining contestant's will perform basic technical skills across the floor.