News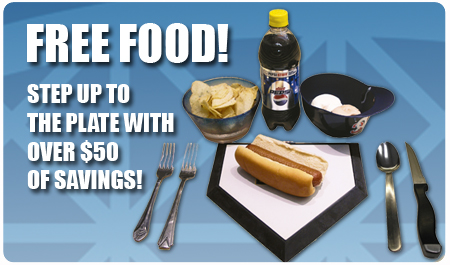 A new Cyclones Mini Plan offers free food at each of the five games in the plan, giving fans over $50 of extra value! The Grub Club plan includes a free hot dog, soft drink, chips, and ice cream at each of the following great games:
Tuesday, June 30th at 7pm vs. Hudson Valley
Thursday, July 9th at 7pm vs. Aberdeen
Saturday, July 18th at 6pm vs. Auburn
Tuesday, July 28th at 7pm vs. Aberdeen
Monday, August 24th at 7pm vs. Vermont
As a Mini Plan Holder, you'll also receive these benefits:
Same great seats to every game in your plan
Grub Club tickets are just $15 per game
Priority Seating: Select the area where you want to sit and you will receive the best seats prior to tickets going on sale to the general public (based on availability)
EXCLUSIVE Mini Plan Holder cap giveaway
Invitation to a Cyclones pre-season practice
First chance to purchase additional tickets before they go on sale to the general public, including Opening Day and playoffs
Unused Ticket Policy: Any tickets not used for a previously played game may be exchanged for a bleacher ticket to any 2009 Sunday-Thursday home game, based on availability. Or, you can exchange your ticket and pay just $5 for a Field Box Seat
The only thing better than a hot dog and a ballgame is a
FREE
hot dog and a ballgame!