News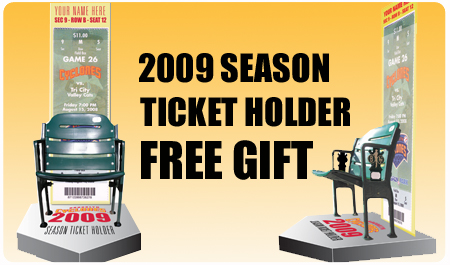 Season Ticket Holders get loads of exclusive benefits, like discounts, invitations, and deals. Among the most popular of the perks are the FREE giveaways that are for Season Ticket Holders ONLY.

One of those two free gifts has been finalized for 2009, and is one of the most exciting and unique giveaways the Cyclones have ever produced -- a personalized desktop seat stone, which is an exact replica of a KeySpan Park seat, with a slot for you to insert an actual ticket stub from one of your most memorable games. The display is completely personalized, with your name and seat location, meaning that it is truly your seat!

The approximately 3.5-inch tall seat replica is mounted on a ceramic home-plate base, on which the words "2009 Brooklyn Cyclones Season Ticket Holder" are painted. Take a look at the design by clicking here.

"Our fans have sat in, danced on, and been thrilled to the edge of their seats for eight years," said Cyclones General Manager Steve Cohen. "This year, we're excited to be able to give them their very own version of those seats, which they can proudly display, and think about all the great times they've shared with us...and with their seat."
Season Ticket Holders will be able to pick up their seat replica at the ballpark throughout the 2009 season.