News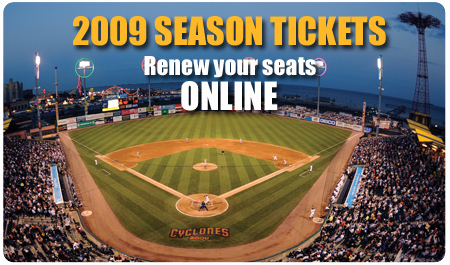 Cyclones Season Ticket Holders get the very best that Brooklyn baseball has to offer...and they get it for less!
Over $300 worth of discounts, deals, and exclusive benefits
make Season Tickets a solid investment in a summer full of fun!
Returning Season Ticket Holders can take advantage of an exclusive renewal period from December 6th to January 23rd and
purchase 2009 Season Tickets online NOW!
In 2009, you'll get even more for your money, thanks to our biggest and best list of exclusive benefits ever, including:
Value Pricing: You get the best seats in the ballpark for less money, saving up to 19% per seat – a discount of $114 per seat!
Guaranteed Same Great Seats: Your seat stays the same for all regular season and playoff home games.
FREE Food: New in 2009, you'll receive three Grub Club passes for each seat in your plan, good for a FREE hot dog, soft drink, bag of chips, and ice cream. That's three nights of free food – a $33 value!
New York Mets Pre-Sale: Your chance to get tickets to see the Mets at their brand-new, world-class home – Citi Field – in the ballpark's high-demand inaugural season before they go on sale to the general public!
FREE Playoff Tickets: Postseason tickets are included with every Season Ticket purchase at NO ADDITIONAL COST – a savings of up to $60!
FREE Parking on Monday and Tuesday Nights -- a $45 value!
Guaranteed Exclusive Giveaways: Two FREE special gifts for Season Ticket Holders, which can be picked up throughout the season (check out the desktop seat replica).
Online Account Management: You can email tickets to friends and print tickets at home with our easy-to-use system.
No Unused Tickets: Redeem your unused ticket stubs from any previously played 2009 game for seats to any future Sunday to Thursday game.
STH Saturdays: Enter the park and get access to the players, the field, and that night's giveaway item 30 minutes earlier than anyone else on Saturdays.
Secured Express Entrance at the Main Gate: Season Ticket Holders will have their own entrance at the main gate at every game, getting you inside the ballpark – and allowing you to get that night's giveaway item – faster!
Cyclones Nation: You get a username and password, giving you access to an exclusive STH-only page on the Cyclones website, featuring an interactive blog, online focus groups, chats with the team's General Manager, a message board, and even more deals, discounts, and offers.
Batting Practice at KeySpan Park: Your chance to take some swings on the field, and see if you have what it takes to hit one deep.
Exclusive Autograph Session: Meet the team at exclusive events!
Group Picture: Stand on the field, side-by-side with the 2009 Cyclones for a group picture you can download and print for free at brooklyncyclones.com
Referral Rewards: Get autographed memorabilia and Cyclones Cash back when you refer a friend who purchases a ticket plan.
First Look: You get an exclusive invitation to see the Cyclones first practice, before the season starts!
Flexible Payment Plan: We can even help you break your payments into smaller installments.
Of course, as a Season Ticket Holder you'll also have the best seats in the house to watch some of baseball's top prospects and Brooklyn's best entertainment. Over 20 former Cyclones have gone on to the major leagues, with Brooklyn fans being able to say "I saw them first." Last year alone, Angel Pagan, Joe Smith, Dan Murphy, Nick Evans, Carlos Muniz, Eddie Kunz, and Bobby Parnell all played for the Mets, with even more former Cyclones knocking on the door in 2009.

And great baseball is just part of the fun! Dancing seagulls, superheroes, bobbleheads, medieval knights, pork rind sculptures, fireworks, clowns, face painters, stilt walkers, jugglers, dragons, leprechauns, celebrities, and other zany hijinks make a Brooklyn Cyclones game the most unique and memorable event in all of New York City.

Returning Season Ticket Holders will enjoy an exclusive renewal period, from December 6th to January 23rd. Please review all materials sent to the address on your account for information on deadlines, benefits, and our brand-new online flexible payment plan.
If you have any questions, please
email us
or call our Ticket Office at 718-37-BKLYN for assistance.