News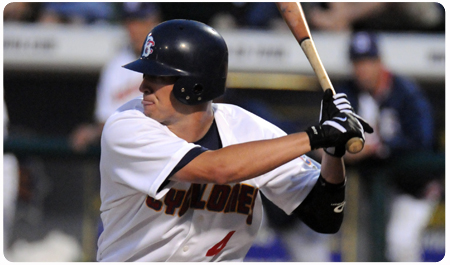 The Cyclones swept the Oneonta Tigers on Friday night, defeating them 3-2. Brooklyn has now won a season-high six straight games. Friday also put Brooklyn over the 40-win mark (40-28) for the seventh time in club history.
Offensively, the Cyclones banged out nine hits. It was the seventh straight game that Brooklyn got nine or more hits in a game. CF Sean Ratliff (pictured, by George Napolitano) continued his hot hitting, going 2-for-3 with a double and an RBI. 17-year-old SS Wilmer Flores also continued his hot hitting. Flores went 3-for-4 with a run scored for the second straight night. Seth Williams also added a pair of hits with two RBI's. RF Kirk Nieuwenhuis and 1B Ike Davis each had doubles.
RHP Pedro P. Martinez made his team-leading 14th start of the year. Martinez pitched 3.1 and allowed two runs. RHP Jeff Kaplan relieved Martinez and threw 4.2 scoreless innings, with four strikeouts. LHP Jimmy Johnson came on in the ninth and got two outs before RHP Yury Santana got a strikeout to earn his 11th save of the season.

On Saturday, the Cyclones travel to Hudson Valley and then return home on Sunday, August 31st at 5pm to conclude a home and home series. On Sunday, the first 1,500 kids will receive a mini Pee Wee Bobblehead and will also be Baby's First ballgame -- parents will be able to stroll their kids around the bases after the game!.
Tickets are still available by clicking here or calling 718-507-TIXX