News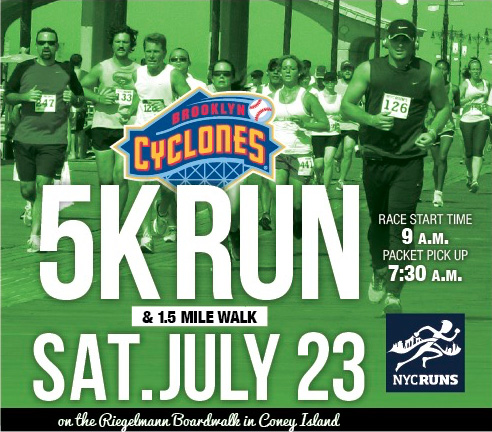 To Register for the Race -- CLICK HERE

Join the Brooklyn Cyclones on Saturday, July 23rd, 2016 for the 12th Annual 5K Run on the famous Reigelmann Boardwalk in Coney Island. The fee for registration is $40 if you register before June 26th, $45 until July 17th, $50 until online registration closes July 20th, and $60 on race day. You may register in person (cash only) at packet pickup and on the morning of the race. The registration cost includes an official Take Your Base Jersey, ticket to 2016 Brooklyn Cyclones home game, and invitation to a post race party with free food and beer/soft drinks.
The home plate finish is just the beginning. Our post-race festivities include a party with BBQ and beer, a Brooklyn Cyclones game and a fun day on the Coney Island boardwalk. Runners and walkers of all abilities are welcome. This 5K course is accurately measured and electronically-timed.

New for 2016 – 1.5-Mile Walk! This event is not timed. Course map to follow.

Proceeds from the race will benefit the YMCA of Greater New York. When registering, members and friends of the Y should select their own "YMCA branch" to send support directly to children and families in their community.

Everything you give to the Annual Campaign of New York City's YMCA gives children and families the chance to thrive. No one is ever turned away.

Course: See the 5K map below. The race starts on Surf Avenue, continues onto the boardwalk and finishes at home plate in MCU Park. Registration, bag check, bathrooms, and the post-race party will take place on the main concourse of MCU Park.

Awards: Awards will be given to the top three male and female finishers overall. Age group awards for the 5K (runners) will be awarded to the top three overall in each of the following categories: 9 and under, 10-14, 15-19, 20-29, 30-39, 40-49, 50-59, 60-69, and 70 and over. NYC Runs award policies are available here.

Packet Pickup: Outside of MCU Park on Friday, July 22 from 5 to 7 pm. On race day, there will be packet pickup near the start line, beginning at 7:30 am.

Amenities: Bag check and toilets will be provided. BBQ, beer, bagels, fresh fruit, and more will make up the usual great NYCRUNS post-race spread. The giveaway for this race will be a raglan baseball style shirt. All participants receive one free Cyclones ticket for a game on July 22, July 23 or August 13. Additional tickets—up to 8 per game—can be purchased for $10 each. All tickets are general admission.

Directions: Take the D, F, N, or Q trains to Coney Island Stillwell Avenue. At the corner of Stillwell and Surf Avenues (where Nathan's is located), turn right. Walk two blocks west along Surf Avenue to the ballpark. Please check the MTA Trip Planner for up-to-date and detailed mass transit directions and Google Maps for driving directions. Parking is limited at all of our events, so we strongly encourage you to use mass transit.

Cost: This event is $40 through June 26, $45 through July 17, $50 until online registration closes, and $60 on race day. You may register in person (cash only) at packet pickup and on the morning of the race. Standard policies apply (no refunds, no deferrals and no transfers) unless you are signed up for the NYCRUNS membership program.


Time Limit & Pace: Unless explicitly stated, you must be able to maintain a pace of 15 minutes per mile or faster for all NYCRUNS races except 5Ks in which you must be able to maintain a pace of 20 minutes per mile. As long as you meet those requirements, you can rest assured your efforts will be supported with hydration stations, course amenities and proper medical coverage. If you cannot maintain the minimum pace at an NYCRUNS event, your finish time may not be recorded and you may be asked to remove yourself from competition by either vacating the course or surrendering your race bib. Please understand that these requirements are for your safety.

Headphones & Earbuds: We recognize that many of you run best with music or audiobooks, but to ensure your safety and the safety of others, please do so in a manner that allows you to be aware of your surroundings. We'd prefer that you leave one ear unobstructed by only wearing one earbud at all times. If at any time NYCRUNS staff or volunteers see that you do not follow the directions of a course marshal or your awareness is otherwise hindered by your headphones or earbuds, you may be disqualified.

Race Contact: theteam@nycruns.com