News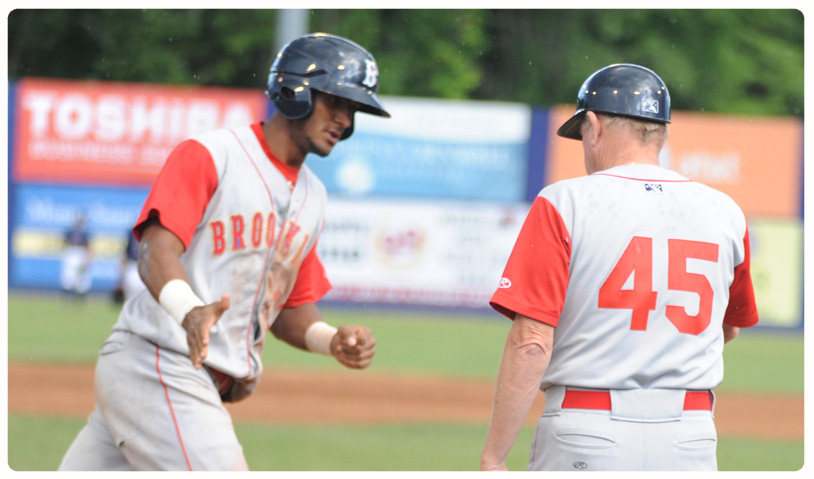 Hudson Valley, NY -- September 9th -- Eudy Pina led the Cyclones offense, going 2-for-3 with a double and a home run in an 8-1 loss to the Hudson Valley Renegades on Sunday night. The series is now tied at 1-1.

Hudson Valley took an early 1-0 lead in the bottom of the first. Thomas Coyle hit a one-out triple on a ground ball to right, and was later plated on a single off the bat of Luke Maile.

The Renegades scored another run in the fourth. Maile led off with a line drive single, and moved to second when Ryan Dunn walked. Leonardo Reginatto singled to advance both runners. After Justin O'Conner struck out swinging, Marty Gantt hit a sacrifice fly to right field, and Maile scored on the play.

The Cyclones scored their lone run in the fifth when Eudy Pina homered to center field. However, the Renegades struck again in the bottom half of the frame. Joey Rickard hit a leadoff single, and reached second when Coyle walked. Rickard then crossed the plate when Richie Shaffer reached on a fielding error by shortstop Phillip Evans.

In the seventh, Hudson Valley hit Cyclones reliever Logan Taylor for three runs. Three consecutive singles loaded the bases for the Renegades before Ryan Dunn grounded out to second to score Coyle. Reginatto then doubled on a line drive to left field to plate Shaffer and Maile.

Hudson Valley posted the final two runs of the game in the following inning. Gantt led things off with a single before Joel Caminero grounded out to first. Rickard then walked, and Gantt stole third. A sacrifice fly by Coyle allowed Gantt to come home, before Shaffer singled on a ground ball to center to score Rickard.

Brooklyn starting pitcher Luis Mateo suffered the loss after going 5.0 innings and allowing three runs (two earned) on six hits with two walks and four strikeouts.

Starter Jeff Ames earned the win for the Renegades after tossing 6.0 innings. He surrendered just one earned run on six Cyclones hits, walking none and fanning four batters.

The Cyclones will face the Renegades again tomorrow, Monday, September 10th for Game Three of the semi-finals. First pitch is scheduled for 6:05 PM. The winner of tomorrow night's game will advance to the final round of the NYPL playoffs.