News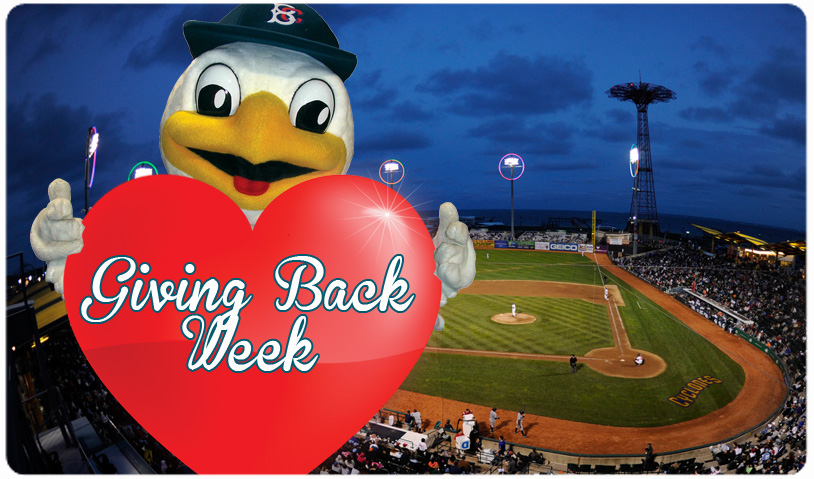 To purchase your Giving Back Week tickets CLICK HERE and use the code DONATE.

From August 21-23, the Brooklyn Cyclones will celebrate Giving Back Week at MCU Park. Their goal is to raise $15,000 for area charities during a three-game Cyclones homestand when the team takes on the Tri-City Valley Cats. All games begin at 7 p.m.

Cyclones fans can use the code "DONATE" when purchasing $16 field box tickets via phone or Internet and $5 from each seat sold will be donated to local charities. In addition, all revenue from in-house initiatives, such as inflatable games, launch-a-ball, and jersey auctions will go towards this worthwhile program.

"Giving Back Week is about helping the people of Brooklyn and New York City that have helped us become one of the most successful teams in all of Minor League Baseball," said Cyclones General Manager Steve Cohen. "It's the culmination of our year-round efforts to be active members of our community while also highlighting some of the local charities on Coney Island who do great work, but may not be widely known."

The Cyclones will be holding a food drive on Tuesday, August 21, and ask that all who attend bring cans of non-perishable food to be donated to Reaching Out Community Services – a nonprofit, volunteer organization dedicated to the distribution of food and other basic items to needy families and individuals in the Brooklyn area since 1992.

Wednesday, August 22 is Bark in the Park Night. Fans are asked to bring a can of dog and cat food to be donated to the Mayor's Alliance for NYC's Animals – a coalition of more than 150 animal rescue groups and shelters working with Animal Care & Control of NYC (AC&C) to end the killing of healthy and treatable cats and dogs at AC&C shelters.

And those who attend the game on Thursday, August 23 are asked to bring a gently worn pair of sneakers or shoes to be donated to the Soles 4 Souls initiative. S4S is responsible for delivering over 19 millions pairs of shoes in over 125 countries both for crisis relief and to support efforts to eradicate poverty.

Each person who makes a donation will receive a raffle ticket, making him or her eligible for prizes awarded throughout each of these games. Charities to benefit from Giving Back Week include: Reaching Out Community Services, CAMBA, Mayor's Alliance, and Heartshare, as well as Coney Island area charities, You Gotta Believe and Salt & Sea Mission.

CAMBA serves more than 45,000 individuals and families, including 8,000 youth, each year. Specifically, the nonprofit agency helps people of low-income; those moving from welfare to work; people who are homeless, at risk of homelessness or transitioning out of homelessness; individuals living with or at risk of HIV/AIDS; immigrants and refugees; children and young adults; entrepreneurs and other groups working to become self-sufficient. The majority of CAMBA's clients live, work, and/or attend school in Brooklyn.

You Gotta Believe is a homeless prevention program that works to find adoptive and permanent homes for teens and pre-teens living in foster care.

The Salt & Sea Mission was formed to meet people's basic needs, offering services such as detoxes, classes for leadership training, job readiness, character building, anger management, nutritional classes, budgeting, individual/group counseling, food, clothing, HIV & AIDS counseling, housing & medical help, and more.

The main goal of Giving Back Week is to better the community in which the Cyclones play and garner support. By relaying the importance of helping those in need, the Cyclones strive to be leaders not only on the field, but in the community as well.