News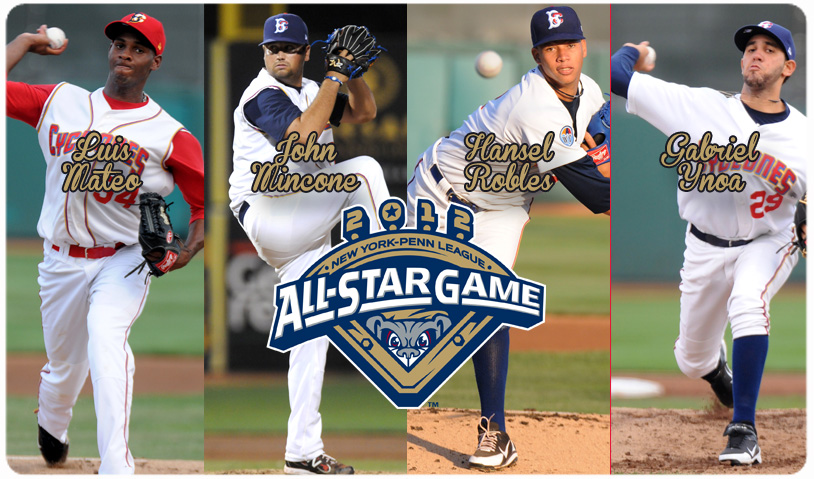 The New York-Penn League has announced the rosters for the eighth annual New York-Penn League All-Star Game to be played at Mahoning Valley's Eastwood Field on Tuesday, August 14th and once again the Cyclones are well represented on the National League affiliates roster.

Four Cyclones players, all pitchers, were named to the team marking the first time in franchise history that four Cyclones pitchers have been named to the roster, and the second time that no position players have been selected to the game. In 2008 righthanded pitcher Brad Holt, Yury Santana and Chris Schwinden were the sole representatives for the Cyclones.

Here's a look at the 2012 Cyclones who will be representing the club at the 2012 All-Star Game:
Luis Mateo – The righthanded pitcher is only the second player in franchise history to be honored as the New York-Penn League Pitcher/Player of the Week twice in the same season. The 23-year-old hurler leads the NYPL in strikeouts with 58 and ranks fourth in WHIP 0.87.
John Mincone – The lefthanded reliever has been nearly flawless this season for the Cyclones. In 13 games out of the bullpen, the 24-year-old is 2-0 with four saves. In 21.2 innings, he has allowed just one run on 11 hits while walking three and striking out 23. Mincone currently has an 18.1 scoreless innings streak that dates to June 24th.
Hansel Robles – The righthanded hurler currently ranks fifth in the New York-Penn Leauge with a 1.74 ERA (nine ER / 46.2 innings). Over his last five starts, he has allowed one earned run or less in each outing. The 21-year-old will celebrate his 22nd birthday the day before the NYPL All-Star Game.
Gabriel Ynoa – The youngest Opening Day starting pitcher in franchise history has been as consistent as they come for the Cyclones this season. Has tossed at least 6.0 innings in each of his nine starts and has allowed two runs or less in eight of these nine outings.