News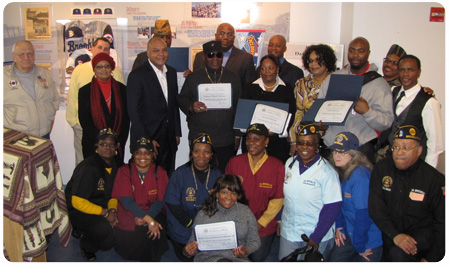 On Saturday, February 25th the Brooklyn Cyclones honored the Womens Veterans Network as part of the 5th Annual Black History Month Celebration at MCU Park. The program included opening remarks from Ken Currey, the Vice President of Business Development for MCU before a celebration of African American Culture through song and poetry. The evening concluded with a presentation from Keynote Speaker, Rev. Karim Camara, New York State Assemblyman - District 43.
Those who were honored during the ceremony include:
Dr. Charles E. Hall - a Navy Chaplain for 22 years.
Darrien Phillips - a 16-year-old who goes above and beyond in his efforts to be involved in the community.
Darrell Williams - founder of Silver Lining Outreach.
Jevante Oirashawn - President and CEO of Elique Group as well as critcal cog in the Give Back Toy Drive for Children.
Keith Suber - Founder of the Suber Foundation, which trains young people in the construction feild, while also serving as a mentor for at-risk youth.
Wallace "Rock" Watson - musician who also served our country in the armed forces.
Special thanks to State Senator Diane Savino, Assemblyman Alec Brook-Krasny, Brooklyn Borough President Marty Markowitz and District Leader Dilia Schack for helping make the celebration possible.