News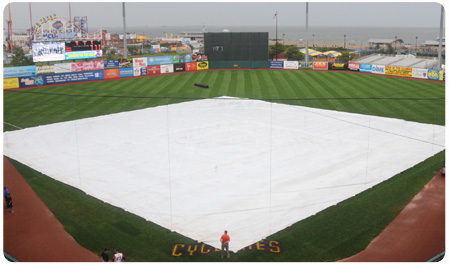 Sunday evening's game between the Cyclones and ValleyCats has been suspended due to rain. The game will resume at 6:00 pm on Monday in the fourth inning with Brooklyn trailing 6-2. Following the completion of nine innings, the Cyclones will play a seven inning game. The ceremony to honor Pia Toscano will take place between games. Gates for Monday's game will open at 5:00 PM.
Those with tickets for tonight's game can exchange them for any remaining game during the 2011 regular season based on availability. The complete Rain Check policy is listed below:
RAIN CHECK POLICY: If the event to which this ticket applies is cancelled or rescheduled, the ticket distrubtor shall not be required to refund the ticket price if the ticket holder is given the right, within 12 months of the originally scheduled date of the event, to attend a rescheduled performance of the same event or to exchange this ticket for a ticket comporable in price and location to another similar event. For New York Mets and Brooklyn Cyclones games, in the event a regulation game (including one that becomes a suspended game) is not played, this ticket will not be refunded but will constitute a rain check which can be used or exchanged in accordance with the Cyclones rain check policy.